Post by grahamew on Oct 13, 2008 11:47:29 GMT -5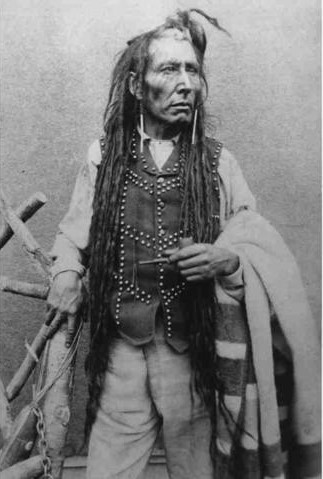 Poundmaker at his trial in 1885; photo by Otto (a.k.a. Oliver) Buell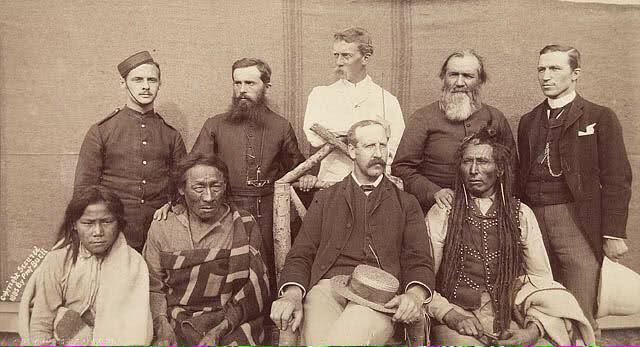 Big Bear's son, Big Bear and Poundmnaker at their trail
Poundmaker (Pitikwahanapiwiyin – named for the time-honoured way of building a pound into which buffalo would be driven and then killed), the Plains Cree chief, was born near present day Battleford in Saskatchewan in 1842, the son of an Assiniboin Stony holy man and a Cree-Metis mother from a leading family in the House band. Despite his mixed race background, he had a traditional Cree upbringing and was under the influence of his maternal uncle, Big Child (Mistawisis), a prominent figure in the Eagle Hills band.
Cree Indians Impounding Buffaloes.
Reproduced from Prof. H. Y. Hind's—"Red River, Assinniboine and Saskatchewan Expedition."
He was respected as a hunter and known for his consideration of others, giving generously to the hungry and needy, but he was thrust to prominence when he was 'adopted' by the Blackfoot leader, Crowfoot, following the death of the latter's son and a short-term peace between the two tribes. For a while, he lived among the Blackfoot and was given the name Wolf Thin Legs and when he returned he brought with him a gift of horses from the Blackfoot, which, coupled with his position as Crowfoot's adopted son, increased his status among his own people.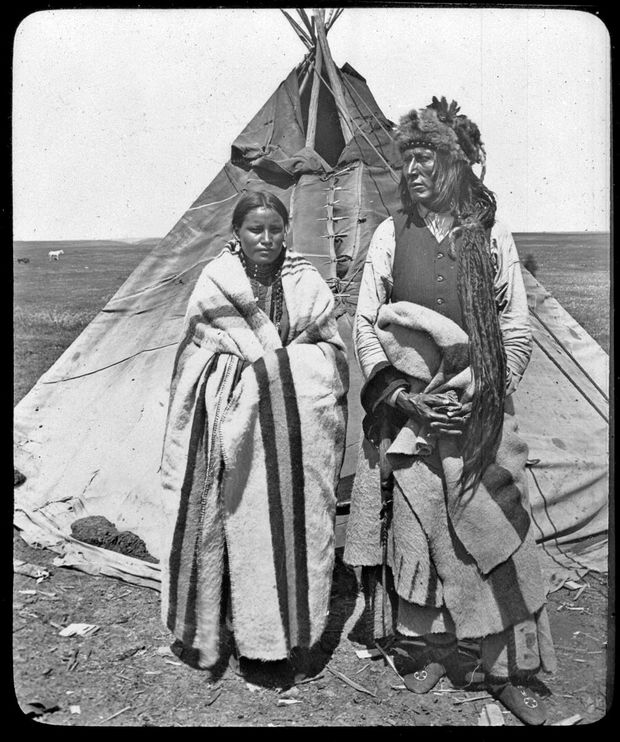 Poundmaker and his wife, n.d.
In 1876, the Canadian government came to negotiate Treaty No. 6 with the Cree in the Fort Carlton area; by this time, he was considered a minor chief and able councillor under Red Pheasant of the River People band. When the Lieutenant Governor of the North-West Territories, Alexander Morris, indicated the government would "give" land to the Cree for farming, Poundmaker angrily retorted, "This is our land! It isn't a piece of pemmican to be cut off and given in little pieces back to us. It is ours and we will take what we want."
Poundmaker opposed the treaty, challenging the intention to confine Indians to reserves and highlighting the inadequacy of the agricultural provision and the rations necessary for times of famine. As a result, the agreement was amended to include a famine clause, but he still refused to sign until 23 August when he did so at the behest of his band; however, he resisted agency life and formed his own band to live the traditional life for as long as possible after Red Pheasant moved to the reserve in 1878.
Starvation forced him to settle on a reserve near Battleford in 1879 and while he did take up farming, he still opposed the government that turned its back on some treaty obligations and refused to acknowledge the conditions of near-starvation on the reserves when the farms failed (as was the case with many white farms in the area).
Poundmaker, along with the renowned Big Bear, who finally settled on a reserve in 1882, led the fight for decent and honourable treatment of their people and in June 1884, over 2000 people gathered for a Thirst Dance at Poundmaker's reserve to discuss the worsening conditions. When the NWMP interrupted proceedings in pursuit of an Indian accused of assaulting a farm instructor, violence broke out and only the intervention of Poundmaker and Big Bear stopped it escalating. In fact, Poundmaker had gone so far as to inform Indian Commissioner Edgar Dewdney on fellow Cree chief Little Pine when he had tried to him to encourage Crowfoot to get the Blackfoot to join the Thirst Dance.
When Riel established a provisional Metis government at Batoche in March 1885, violence was not far away. It came at Duck Lake later that month when an NWMP interpreter and Prince Albert Militiamen killed a Metis and an Indian; the resultant fighting, that involved Indians on the Metis side, saw the deaths of nine militiamen, three members of the NWMP and three Metis.
Poundmaker saw an opportunity to lobby for food and took 60 people to Battleford, informing the agent that he wanted no part of the fighting, hoping that his loyalty would be rewarded with supplies, but the agent did not see things this way; worse, the fear of a joint Metis-Cree force led to hurried preparations for defence at Battleford. The agent refused to speak to Poundmaker and the Battleford residents stayed behind their fortifications. The desperate Indians looted some of the cabins lying outside the defences for food and left for their main village, but the government had already despatched 500 troops under Lieutenant Colonel William Otter to relive the citizens of Battleford. He marched on Poundmaker's camp with 325 men, two cannons and a gatling gun; meanwhile other Indians had gathered around Poundmaker, fearful of the militia. Otter attacked, but the Indians fired from cover and the gatling gun was ineffective. Poundmaker actually intervened to stop the Cree from pursuing and possibly annihilating Otter as he retreated, but by this time the war faction among the Cree had increased their standing and the Metis agitated for further trouble. As a result, the Cree rode to Batoche to help Riel, but before they arrived, word was received that he had been arrested and his forces defeated. As peace chief, Poundmaker sent a message to negotiate surrender with the government forces under Major General Frederick Middleton.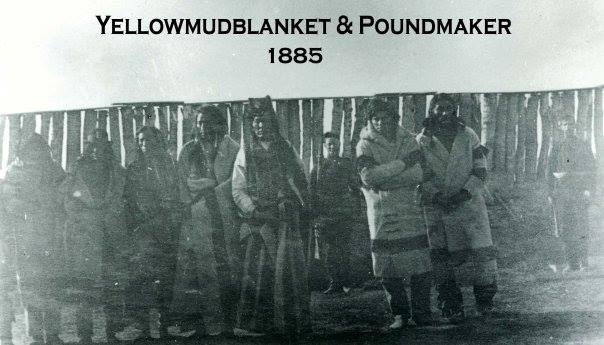 Poundmaker under guard, Battleford, 1885
Father Lacombe, Big Bear, Poundmaker (sitting), Sam Bedson, warden, Father Clothier, Stony Mountain Prison ? 1885-6
Poundmaker was ostensibly a peace chief, and when the militia attacked the camp's control fell to the warrior society, led by a war chief, Fine Day, but he was blamed by a government that wanted to remove the Indian leaders and was placed on trial for treason after his surrender.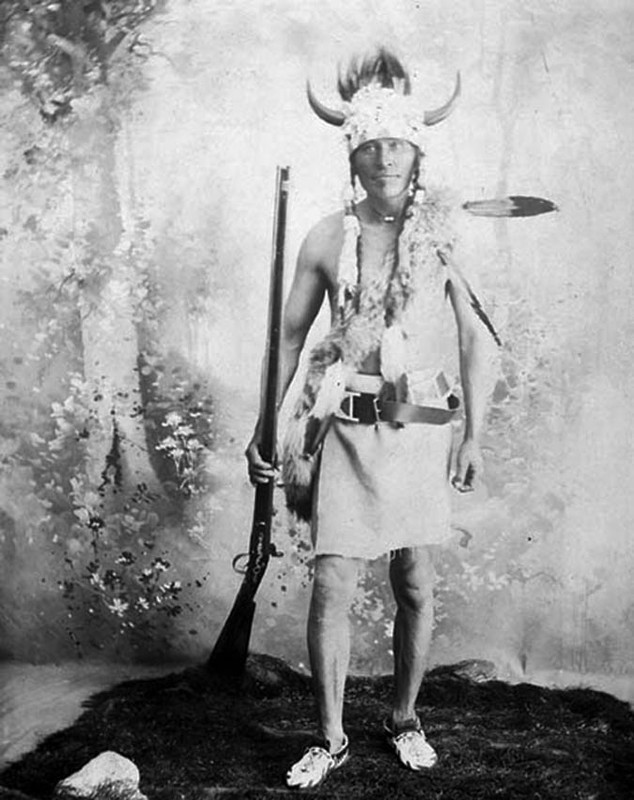 Fine Day (Kah-me-yo-ki-sick-way), leader of the war faction in the Poundmaker village, 1886 (possibly 1896)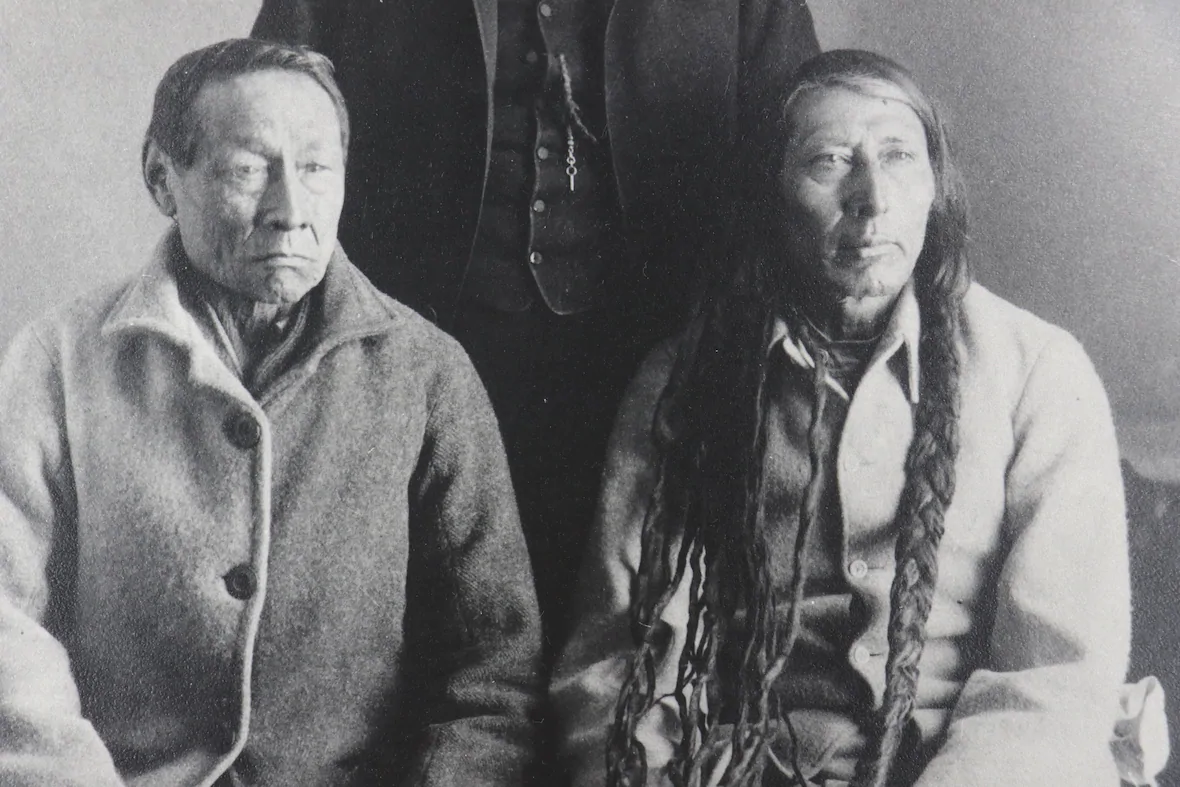 Big Bear and Poundmaker in prison, 1886. Note Poundmaker has been allowed to retain his long hair.
In prison, 1886
He and Big Bear were sentenced to three years each in Stony Mountain Penitentiary, Manitoba, but only served seven months, possibly due to ill health and the government not wishing to stir up trouble with the Blackfoot, one key chief of whom was Crowfoot, Poundmaker's adopted father – indeed, it is thought that the reason his hair was not cut in prison, unlike Big Bear's, was as a favour to Crowfoot.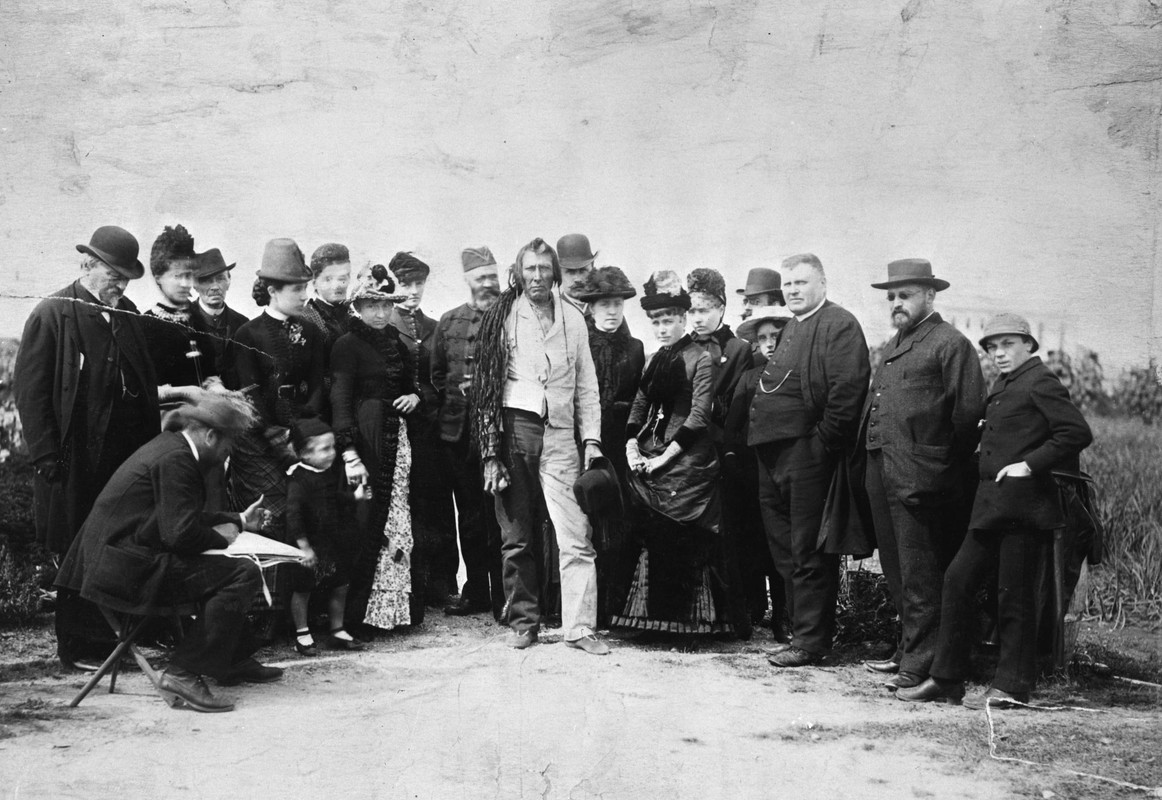 Talking to French journalists, Stony Mountain, Manitoba, 1886
Four months after his release, in 1886, he died of tuberculosis, suffering a lung haemorrhage in Crowfoot's village.
Poundmaker's son, Suc-a-ma-ta-mia [sic], 1896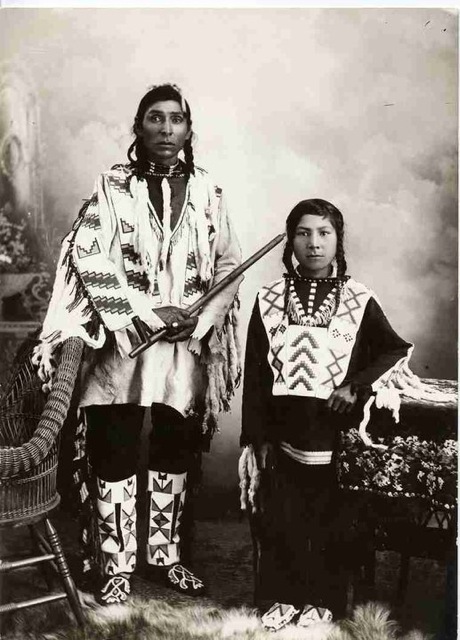 Poundmaker's son and his son, 1896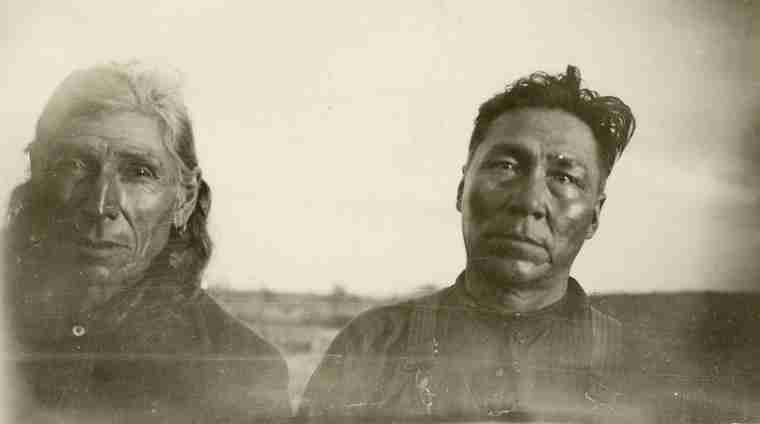 Sakamatayaenew [sic], left, and Horse Child, Big Bear's son, some time in the 1920s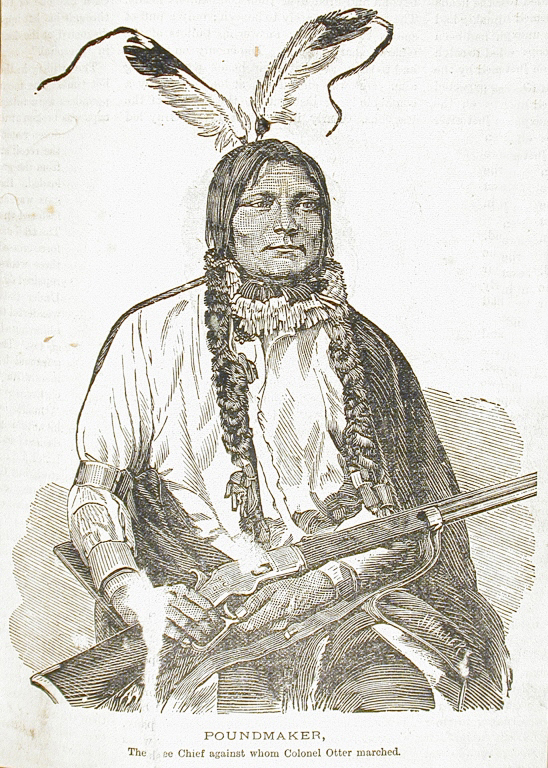 Poundmaker? This picture is in the McCord Museum, Montreal
(http://www.mccord-museum.qc.ca/scripts/search_results.php?keywords=poundmaker&Lang=1), labelled as a likeness of Poundmaker by John Henry Walker, ca. 1880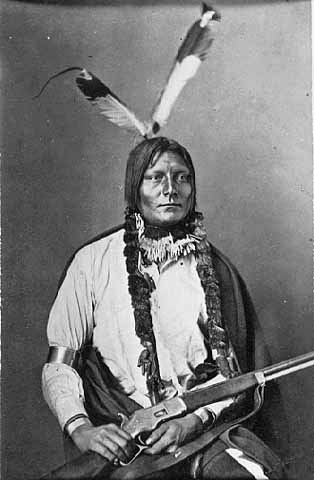 The photo it's based on has already been discussed in the Identification of Unknown Photographs thread on this board. I've seen it labelled as Soup, no tribal affiliation - possibly Bad Soup, one of Gall's warriors; Dietmar's seen it as Two Crows and thinks it's a Barry; Jari's seen it as Two Crow, a Blackfoot. Who knows?
One thing's for certain, the man in the photo looks nothing like Poundmaker!