Post by Historian on May 25, 2009 10:26:13 GMT -5
Black Dog I was born circa 1780 near what later became St. Louis, Missouri. Later Black Dog I was named a chief of the Hunkah Division of the Osage tribe which later became known as Black Dog's Band. Their camp was located in the vicinity of where the city of Coffeyville, Kansas, is now located. In 1803 Black Dog I moved his Band to Ho-tsa-Tun-ka (Big Cedar) now Claremore, Oklahoma. However, to end Osage-Cherokee hostilities the U.S. government forced all Osage bands to remove from Arkansas and Oklahoma in 1839. These bands were relocated on the Verdigris River in the Kansas part of Indian Territory, where the Missouri Osage had agreed to settle in 1825. Black Dog I died on 24 March 1848.
Black Dog I had a son born in 1827, now known as Black Dog II. Black Dog II was elected Principal Chief of the Osage in 1880 and died in October 1910.
*******
"The Osage chief Black Dog was born circa 1780 near St. Louis, Missouri. His village, Pasuga (or Big Cedar), was located at present Claremore, Oklahoma. His original name, Zhin-gawa-ca (or Shinka-Wah-Sa), meant Dark Eagle or Sacred Little One. He possibly earned the designation Manka-Chonka or Black Dog against the Comanche. At a Fort Gibson meeting during March 1833, he was called Shonkah-Sabe or Black Horse. An Osage trail in Kansas and Oklahoma was known as the Black Dog Trail. Engineered by Black Dog, it extended from east of present Baxter Springs, Kansas, to the Great Salt Plains in Alfalfa County, Oklahoma. Under his leadership a substantial proportion of the Osage hunted west to the Salt Plains and the upper Arkansas River. It was not uncommon for members of his band to raid, hunt, and trade as far away as Mexico and Santa Fe. Portraits of Black Dog were painted by artists George Catlin in 1834 and John Mix Stanley in 1843. Blind in his left eye, he stood around seven feet tall and weighed an estimated three hundred pounds. His only son, also called Black Dog, was born in 1827 and died in 1910. Black Dog was a contemporary of and shared power with chiefs Claremore and Pawhuska. His political control perhaps extended over a third of the tribe. He was on generally friendly terms with U.S. authorities and occasionally ordered his braves to hunt and scout for American troops. Black Dog died at the present site of Claremore, Oklahoma, on March 24, 1848."
Taken from:
digital.library.okstate.edu/encyclopedia/entries/B/BL002.html
*******
"Techong-ta-saba, or Black Dog I -
PRINCIPAL CHIEF OF THE OSAGES.
A man of six feet six inches in heighth, and well proportioned, weighing some two hundred and fifty pounds, and rather inclined to corpulency. He is blind of an eye. He is celebrated more for his feats in war than as a counsellor; his opinions are, however, sought in all matters of importance appertaining to the welfare of his people. The name, Black Dog, was given to him from a circumstance which happened some years since, when on a war expedition against the Camanches. He with his party, were about to surprise their camp on a very dark night, when a black dog, by his continued barking, kept them at bay. After several ineffectual attempts, being repelled by the dog, Techong-ta-saba became exasperated and fired an arrow at random, hitting him in the head and causing instant death. By this name he is known familiarly to the Officers of the Army and white traders in that section of country. . ."
Taken from:
siris-artexhibition.si.edu/ipac20/ipac.jsp?&profile=all&source=~
!siaeci&uri=full=3100016~!43766~!0#focus
*******
Black Dog I - Osage (painted by George Catlin) - 1834
*******
Black Dog II and some other Osage joined the 1st Osage Battalion, C.S.A. (Confederate States of America) around 1862, under Major Broke Arm. This military unit was composed of three companies. Black Dog served as a Captain of Company B. Military records are incomplete on their activities, but it is believed that this unit was involved at the battles of Pea Ridge and Prairie Grove, both in northwest Arkansas in 1862.
*******
"The various Osage Indian chiefs and leaders did sign a Treaty on 2 October 1861 with Albert Pike, Commissioner of the Confederate States, to support the southern cause. The Osage tribes indicated they would provide at least 500 warriors to serve in the Confederate States Army. The 1st Osage Battalion, C.S.A., was organized with three companies in early 1862. It was sometimes known as Osage Broke Arm's Cavalry Battalion. This military unit did provide some 200 men to serve in the Confederate States Army. It was assigned first to General Ben McCulloch, then later to Brigadier General Douglas H. Cooper in his Cooper's Indian Cavalry Division in 1863-64. The 1st Osage Battalion served under Brigadier General Stand Watie in his First Indian Cavalry Brigade. Surrendered by Brigadier General Stand Watie near Doaksville, Indian Territory, on 23 June 1865.
Raids and Battles:
* Osage Mill and Mission in Kansas: (September, 1861)
* Humboldt, Kansas: ( September, 1861)
* Pea Ridge (6-8 March 1862)
* Prairie Grove
Commander:
Major Broke Arm, an Osage Indian.
Field Staff:
Captain Louis Pharamond Chouteau, Adjutant, and Osage Interpreter.
Company A:
Captain Augustus Captain (Ogeese Captaine)
1st Lieutenant No-pa-wal-la
2nd Lieutenant Wah-kou-che-la
2nd Lieutenant Sta-lach-la-ton
Company B:
Captain Black Dog (Stdanta-sape)
1st Lieutenant Ne-kar-gah-hee
2nd Lieutenant Wah-sha-sho-wah-ti-in-ga
2nd Lieutenant Wah-cha-o-nso-she
Company C:
Captain Wah-dah-ne-gah
1st Lieutenant No-ne-char-she
2nd Lieutenant Wah-skon-mon-ne
2nd Lieutenant F.A. Lewis"
"Most of the Osages who joined the army of the South were from Black Dog's band that resided on the Verdigris, but Augustus Captaine and some others who lived near the Mission went south. The Black Dog warriors came home before the war was over, but Captaine remained for sometime after the war closed."
"In 1861 there was a man by the name of Dorn who was the Osage Indian agent." says A.T. Dickerman, in the Oswego Democrat. "He had been appointed to the agency by President Buchanan. He was of southern origin and very popular among the Indians. When the war broke out he went with the south and used his infleunce [sic] to take the Osages with him. But old White Hair, head chief of the nation, was a good Catholic and thru the influence of Fr. Schoenmaker, head of the Catholic mission among them, he did all he could to have the Osages remain neutral. But in spite of all he and Little Bear, chief of the Little Osages, could do, the Black Dog band, numbering about 1000, big, little, old and young, went south and joined themselves with the southern confederacy"..."But in about January 1865, they began to tire of the war in which they got no pay, and quit fighting. They came back onto the Verdigris river just below Coody's Bluff and wintered there."
"Augustus was also present at the inception of the Drum Creek treaty, signed May 27, 1868 at the Drum Creek Agency, which was at the confluence of Drum Creek and the Verdigris River. This treaty originally sold a 30 mile strip of land, totaling 8,003,000 acres, known as the Osage Diminished Reserve, to Leavenworth, Lawrence and Galveston (L.L. & G.) Railway Company for $1,600,000. The government was represented by Alex R. Banks, special U.S. indian agent; George W. Yates, captain Seventh cavalry; M.W. Reynolds, reporter for commission; Charles Robinson, I.S. Kalloch, Moses Neal, W.P. Murphy, and William Babcock. Interpretors for the Osages were Augustus Captain, Alexander Beyett, and Lewis P. Choteau. Chiefs present at the signing included Joseph Paw-ne-no-pashe, White Hair, principal chief; Black Dog, Little Beaver, Nopawalla, Strike Axe, Wayohake, Chetopah, Hard Rope, Watisanka, and Melotumuni. Due to political struggles between the government and the railroads, the original treaty was never ratified as written. In September 1870 the treaty was modified, selling the land to the U.S. government for $1.25 an acre. This was the final treaty which removed the Osage from Kansas to their new home in Oklahoma, then known as Indian Territory."
Taken from:
familytreemaker.genealogy.com/users/p/a/r/Kelly-D-Park/GENE77-0003.html
*******
Black Dog II (far left - #6 position) – Osage – 1868
Black Dog II – Osage – 1876
Black Dog II, Not Afraid of Pawnees (aka Joseph, aka Big Hill Joe, aka Governor Joe) - Osage – 1877
L-R: Black Dog II (Osage), Ogese Capton (aka Augustus Captain, Osage/French), Not Afraid of Pawnees (Osage), J. N. Florer – 1877
Man Of Courage, Black Dog II - Osage - 1904
Black Dog II - Osage - 1904
Black Dog II - Osage - 1904
Black Dog II - Osage - 1904
Black Dog II - Osage - 1904
Black Dog II - Osage - 1904
Black Dog II (Osage), Eagle Chief (Pawnee) - 1905
Black Dog II - Osage - 1905
Black Dog II - Osage - 1905
L-R: Black Dog II, Life Giver, Roan Horse - Osage - 1905
Black Dog II and his wife Menanah - Osage - no date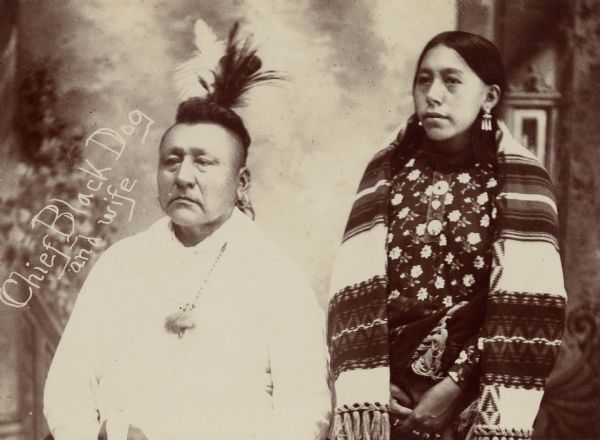 Black Dog II with wife and child - Osage - no date
Black Dog II - Osage - 1908
Standing L-R: Eaves Tall Chief, Playful Wetstone, Harry Kohpay, Wilson Kirk
Sitting L-R: Red Eagle, Playful Sun Carrier, Man Of Courage, Black Dog II - Osage - 1908