Post by inquirer on Oct 10, 2018 12:06:37 GMT -5
I am doing a small research project about the Four Nations. There is a suggestion that the Four Nations (Red, Yellow, Black, and White) are comprised of what you might call major branches of the human race, being respectively the Native American, the Oriental, the Negro, and the Caucasian branches. I want to document examples in the history of each of those branches that show similarities in spiritual belief systems. As I recently began the research, I ran across a photograph taken of a welcome banner that was present at the Indigenous Wisdom and Permaculture Skills convergence in 2017 at the Pine Ridge reservation. (copy attached)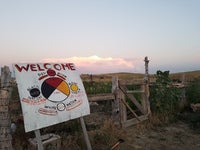 I noticed that there were Lakota (?) phrases associated with each nation. I looked each of these phrases up ("Google research"), and it appears that the phrases refer to branches of the Lakota and Sioux tribes, rather than the more encompassing branches of the human race noted above. The Red Nation phrase, "tatanka oyate", seems to be translated as "buffalo people", which appears to be a reference to the Lakota people themselves. The Black Nation phrase, "wakinyan oyate", seems to be translated as "thunder people", and a reference to the Sioux nation (?). The Yellow Nation phrase, "heraka oyate", seems to be translated as "elk people", a possible reference to the Hunkpapas (Chief Black Moon?). The White Nation has two phrases associated with it. "wamakaskan", which possibly is translated as "("Wa (snow) is the purest form of matter. Ma ka (dirt). Skan skan (movement). Wa ma ka skan: Spirit ("The sacred dirt that moves."). That translation comes from the Oglala Lakota Constitution Statement of Basic Principles. The second phrase, "wanbli gleska", can be translated as "flecked or spotted eagles", in essence, "immature eagles".
Would anyone be able to identify for me who the Four Nations actually are? Or perhaps point me in the direction of others who could assist me? I am also curious about any other sources, literary or otherwise, that might help me uncover some of the core spiritual beliefs of the Lakota people.
This is not a professional project of any kind (believe me). Just looking for information. Any guidance you can provide is greatly appreciated.