Post by grahamew on Apr 3, 2018 10:55:00 GMT -5
Cosand and Mosser's photos of (mainly) Southern Cheyenne turn up all the time on auction sites and there is a large group in the Trustrim Connell collection at the Heard Museum. They have a variety of backdrops and are dated anywhere from the 1870s to the 1890s and are probably taken at Fort Reno, but possibly also Caldwell, Kansas.
Is it possible to date their time at Fort Reno? From what I've seen, it seems pretty vague i.e. some time in the 1870s, though I know an advert in The Cheyenne Transporter of 17 May 1883, talks of them having a
new
gallery in Caldwell, Kansas, selling Indian views.
From my admittedly limited research (though I did contact the historical societies at Fort Reno and Caldwell with no reply), they seem fairly elusive despite their large body of work; Fleming and Luskey even misspell Mosser's name as Moser.
In the Heard Museum collection, the Cosand and Mosser photographs, while not all identified or attributed correctly, seem to show three distinct studio backdrops and I wonder if any can be connected specifically to their time at Fort Reno or Caldwell. I know there's a feeling that the more primitive the backdrop, the earlier the photo, but it may be a case of throwing up a temporary backdrop rather than using the one in the studio...
a) There are a few of this backdrop: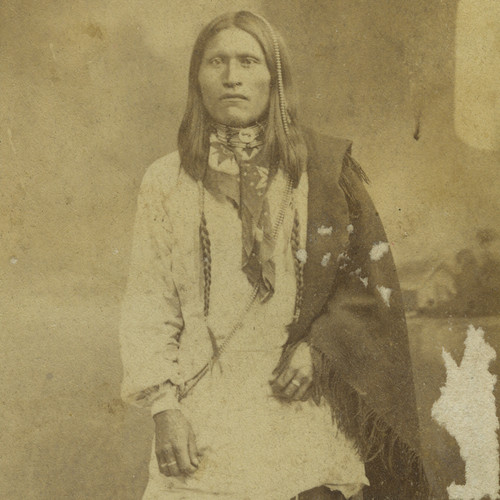 Little Bear's son, scout at Fort Reno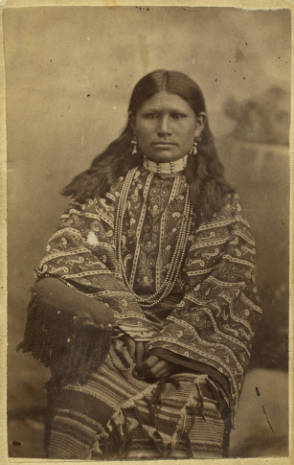 Unidentified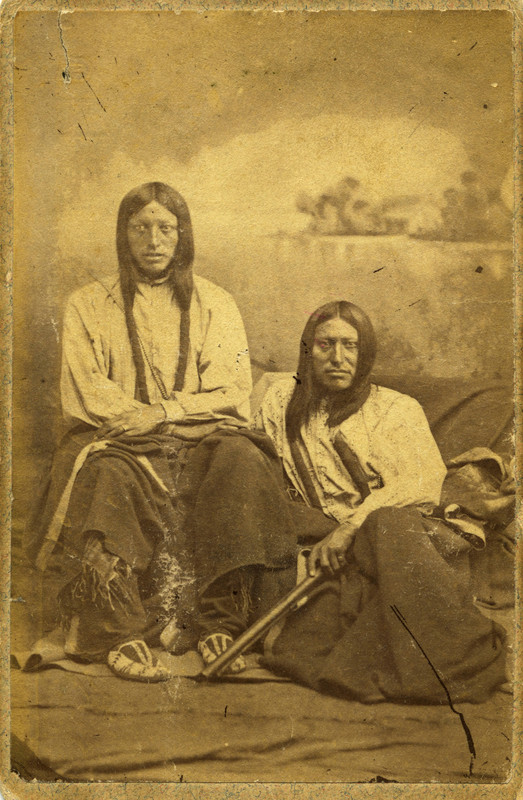 Bird Chief and Hinennitawsa, Arapaho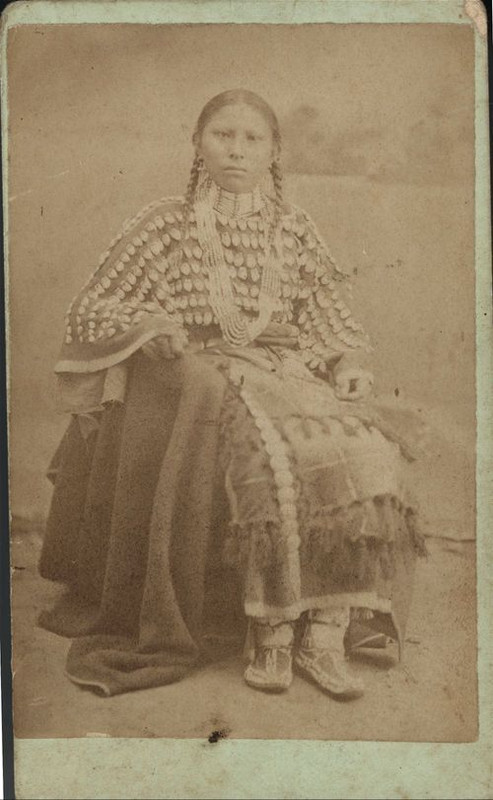 Daughter of White Shield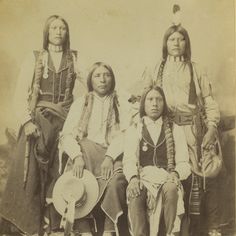 Unidentified - more scouts at Fort Reno?
Bull Thigh's son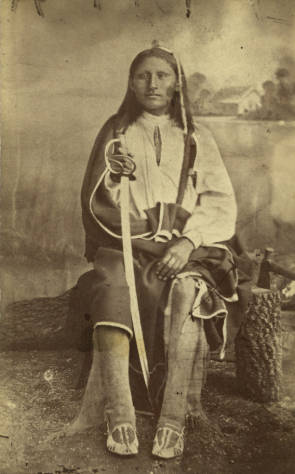 Unidentified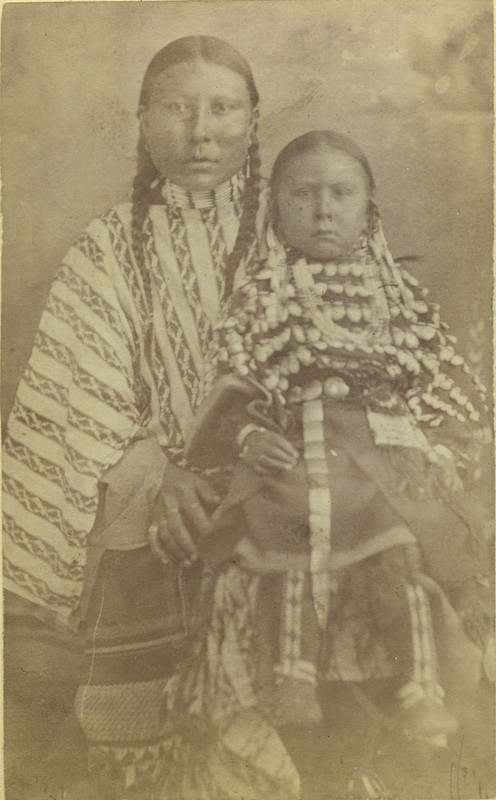 Unientified c.1890???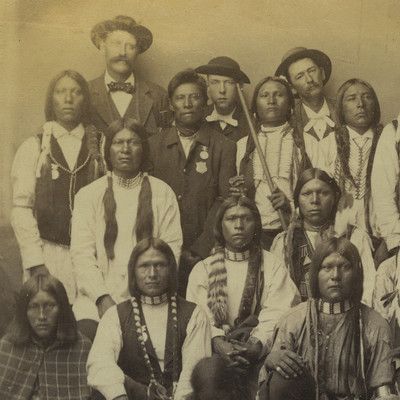 Difficult to see any backdrop but are they more Cheyenne and Arapaho scouts?
Then there is the more common backdrop: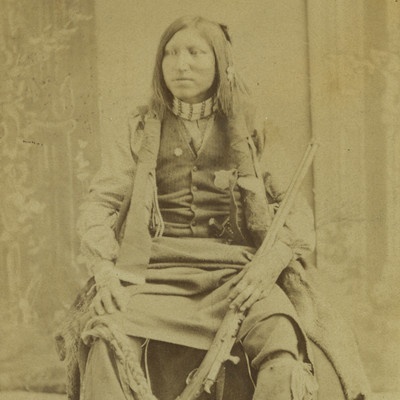 Unidentified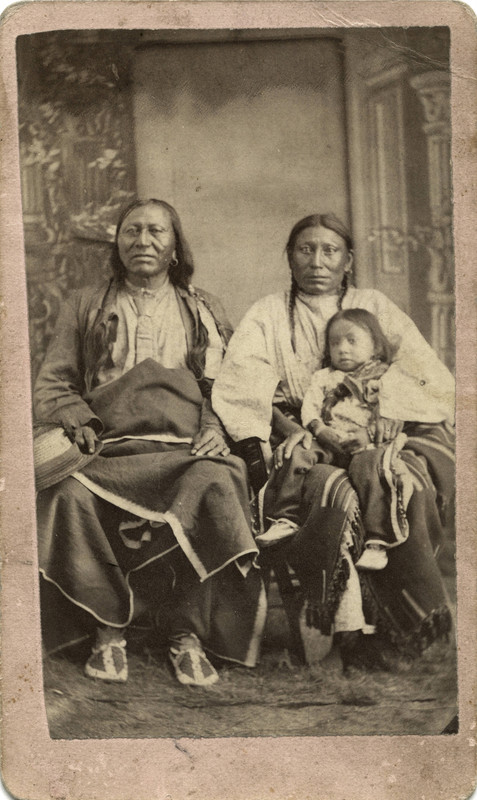 Bob Tail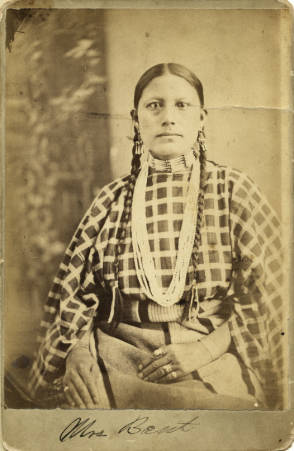 Mrs George Bent (Darlington, I.T.)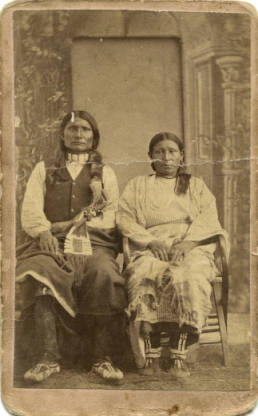 Cut Nose and wife, Northern (?) Cheyenne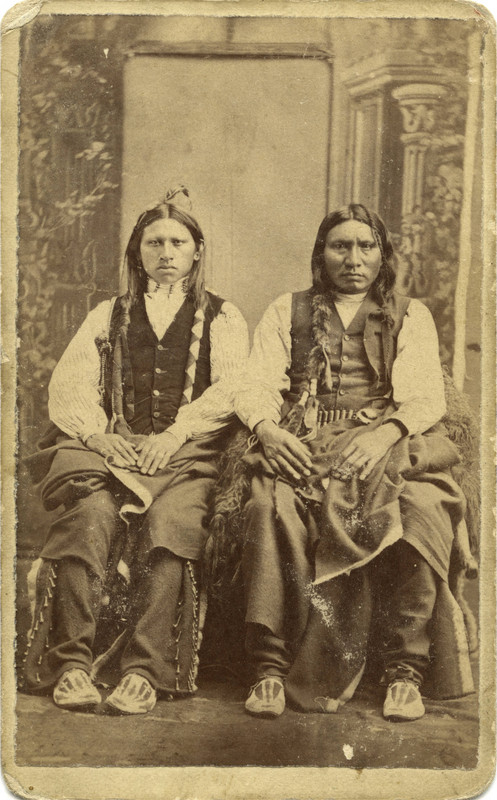 Broken Cup, scout, and friend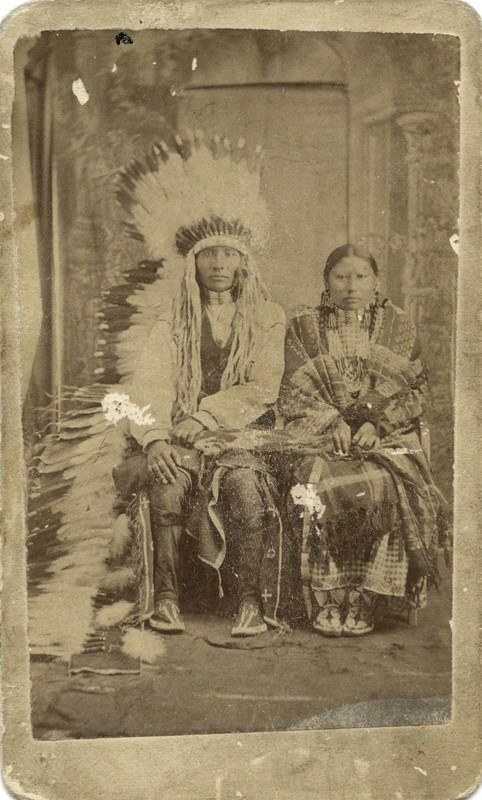 Whirlwind's daughter and Howling Crane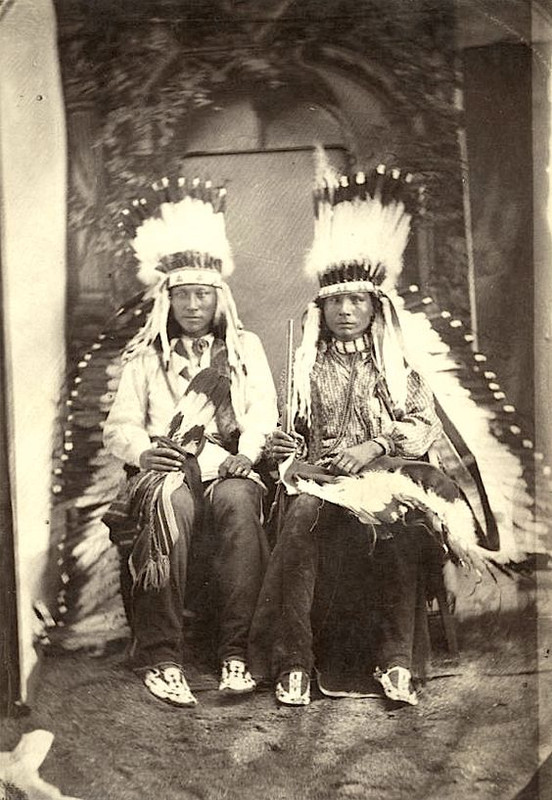 Unidentified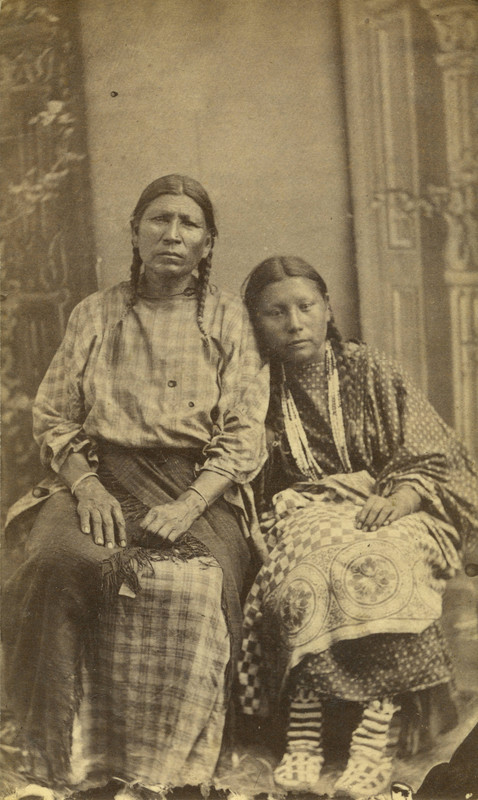 Jennie and Mrs Black Kettle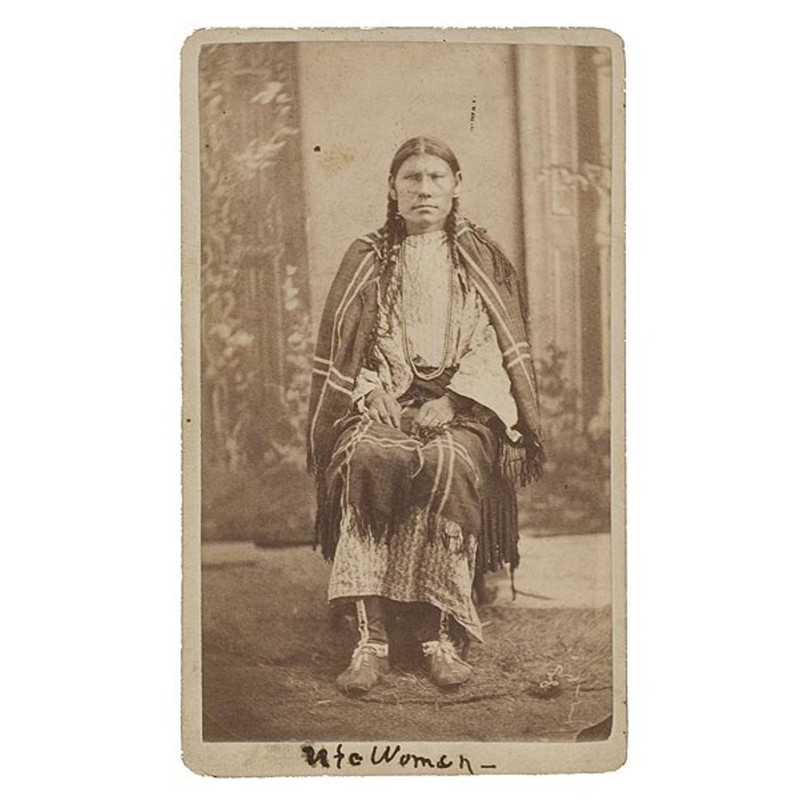 Glad Road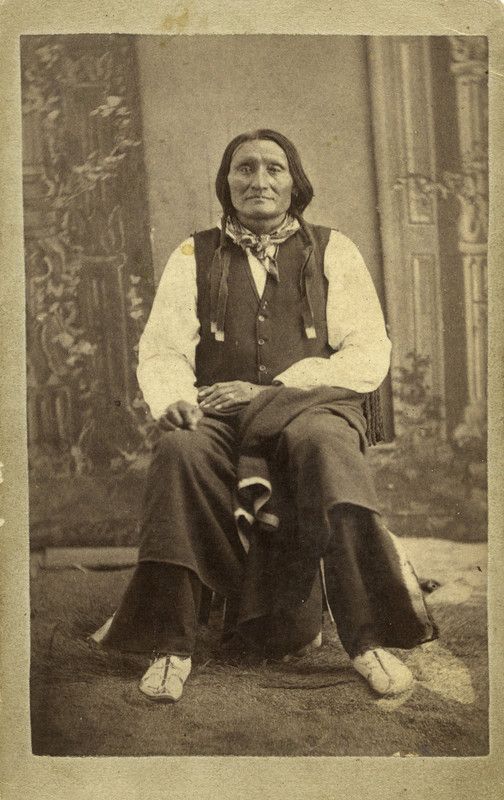 White Shield (looking a good few years older than in Hillers' photo taken in 1875...)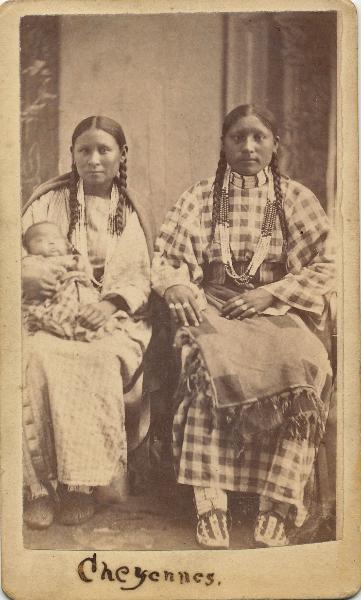 Unidentified (said to be taken at Caldwell, but this could be case of selling an earlier image...)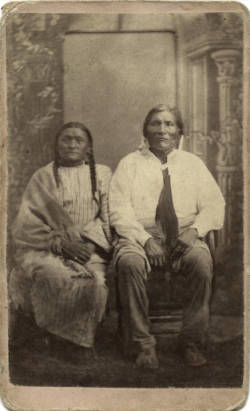 Gentle Horse and wife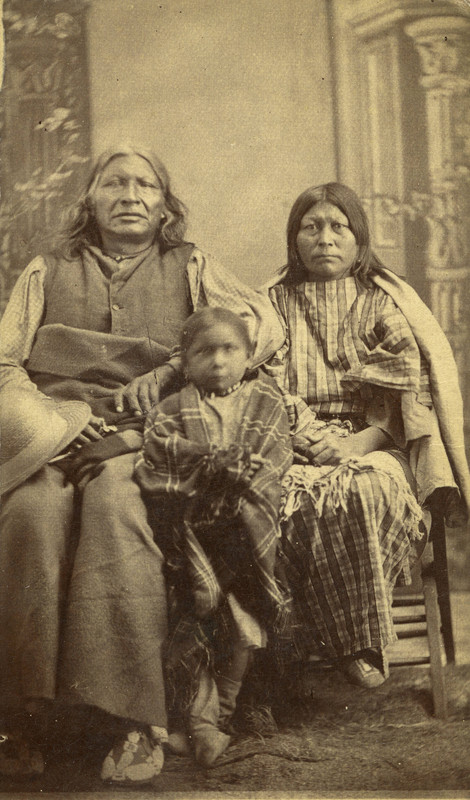 Nocheny and wife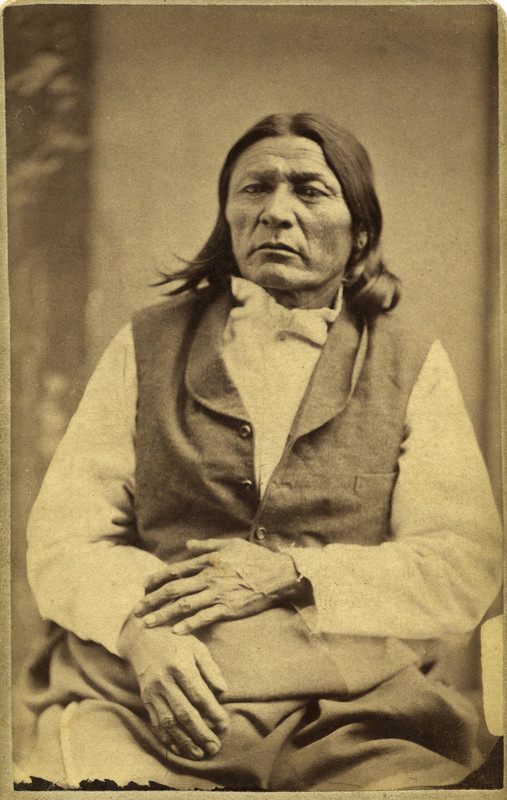 Black Woman, Arapaho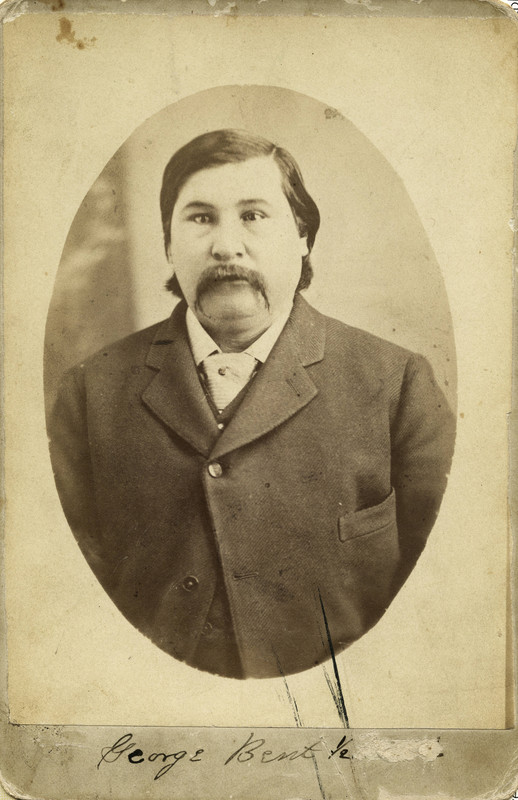 George Bent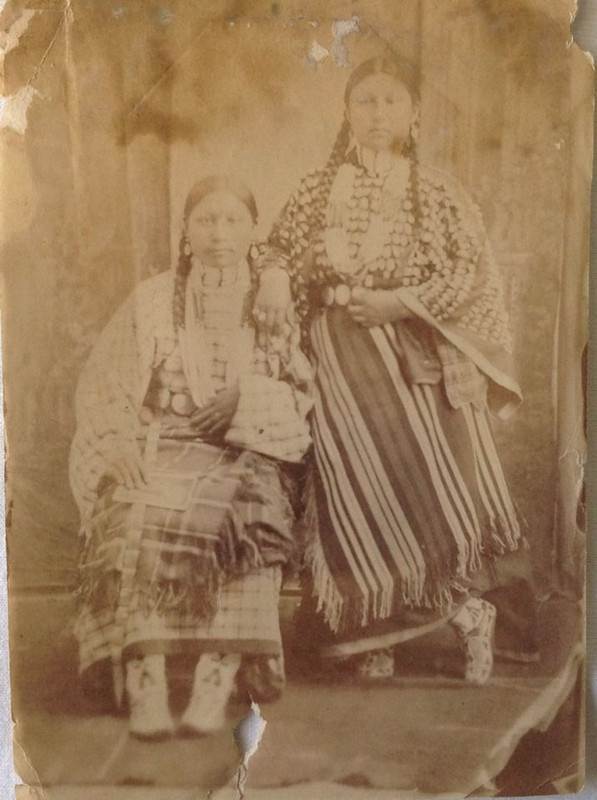 Unidentified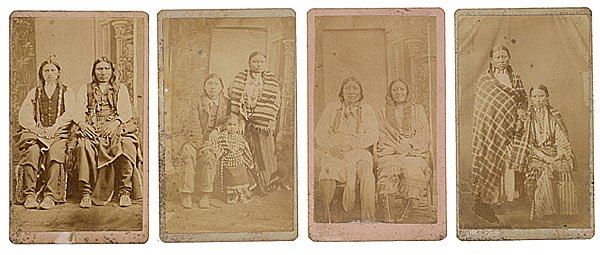 Various
And so on...
Next, a simpler backdrop:
Bull or Ham (?), wife and children. Bull and Ham? Bull Ham? Surely the other older male isn't a son...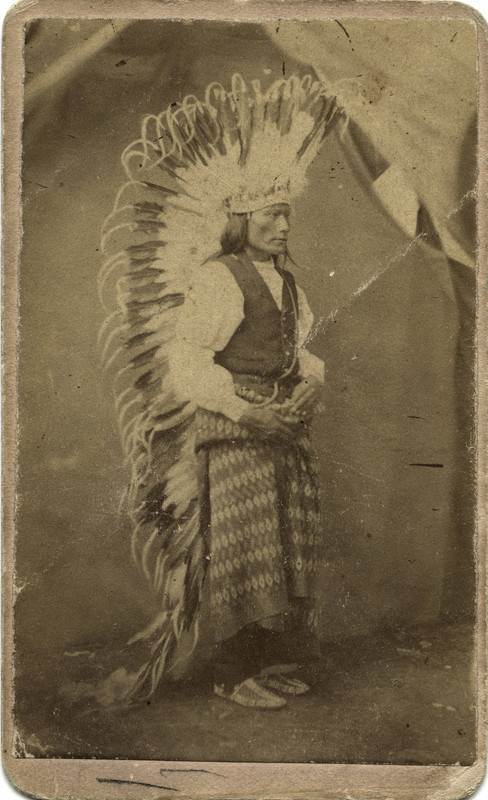 Bull Ham or Wolf Robe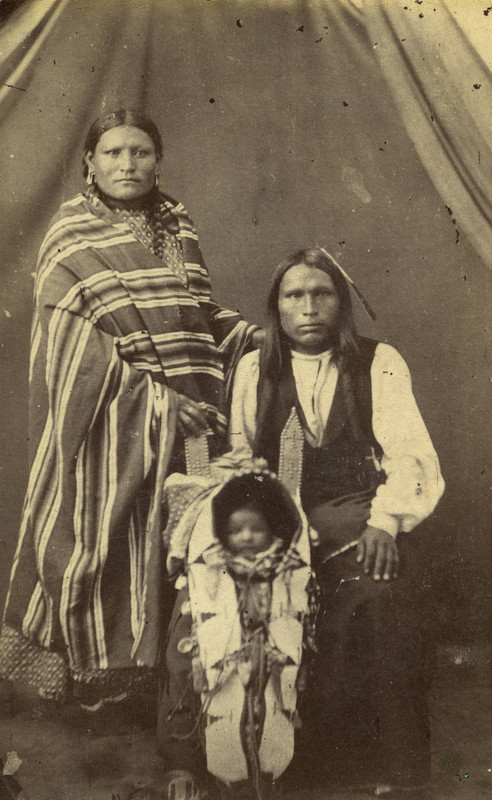 Unidentified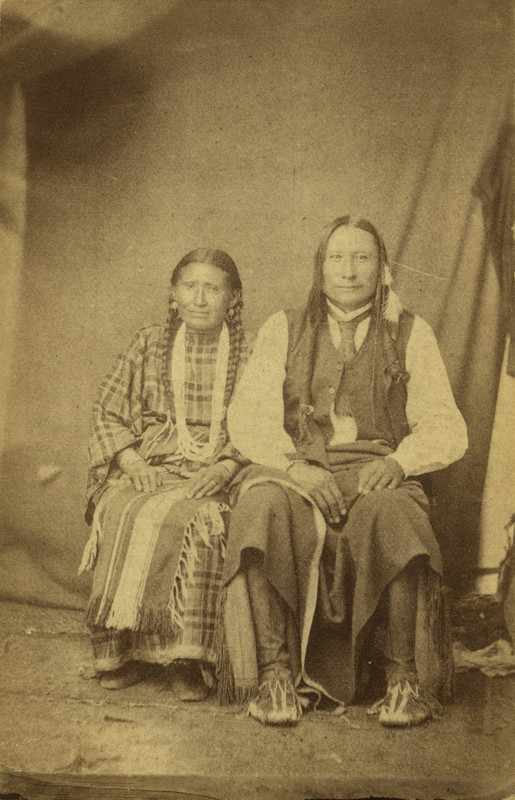 Unidentified... Man on a Cloud...?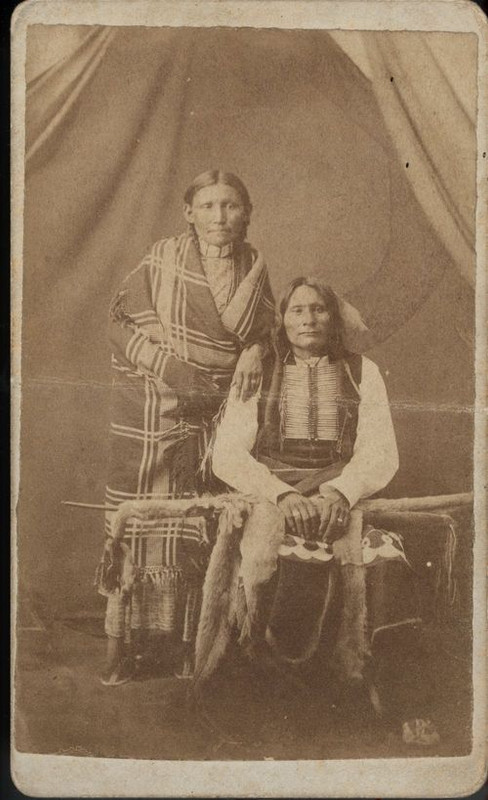 Iron Shirt c. 1886?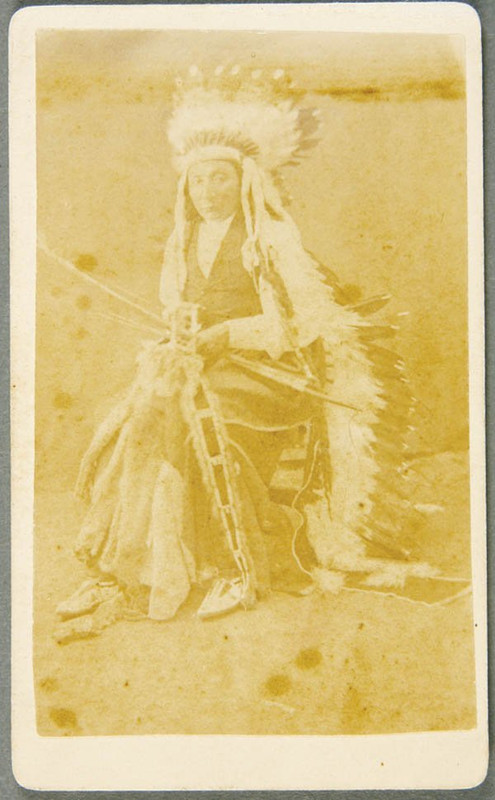 Fairly sure this is another... Big Horse, Cheyenne
On top of that, there are a number of outdoor scenes...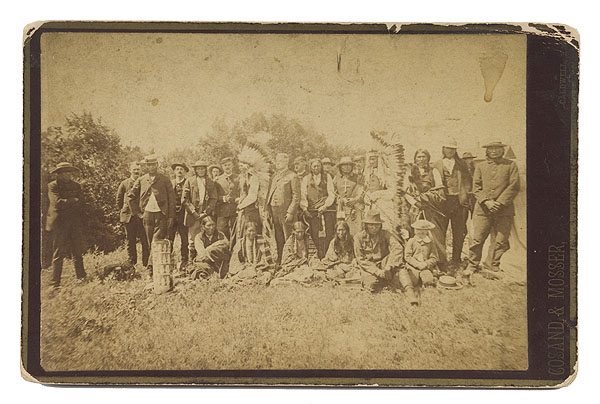 Cheyenne leaders and scouts, 1885-1886. Little Bear is at the centre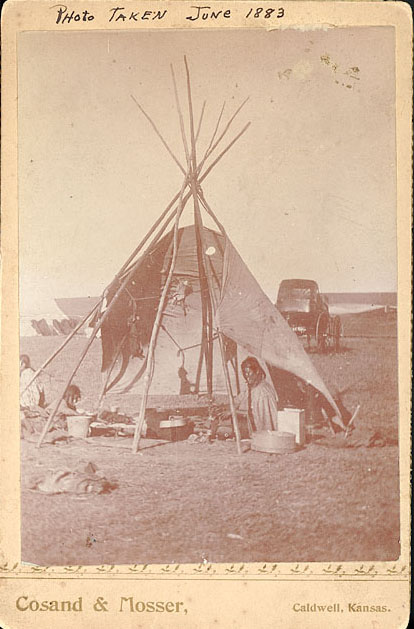 Unidentified, 1883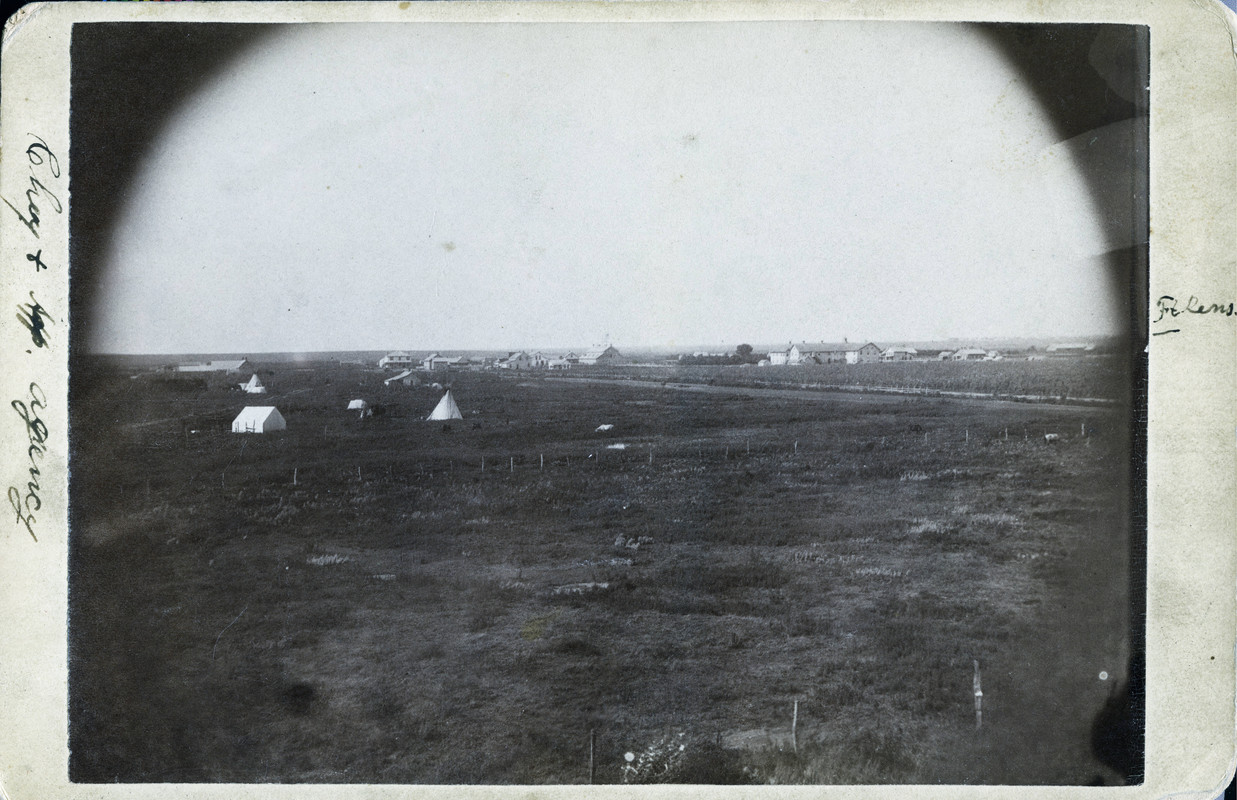 Possibly this: Cheyenne/Arapaho village c.1880
Possibly this one: Cheyenne village, Darlington, c.1880, as above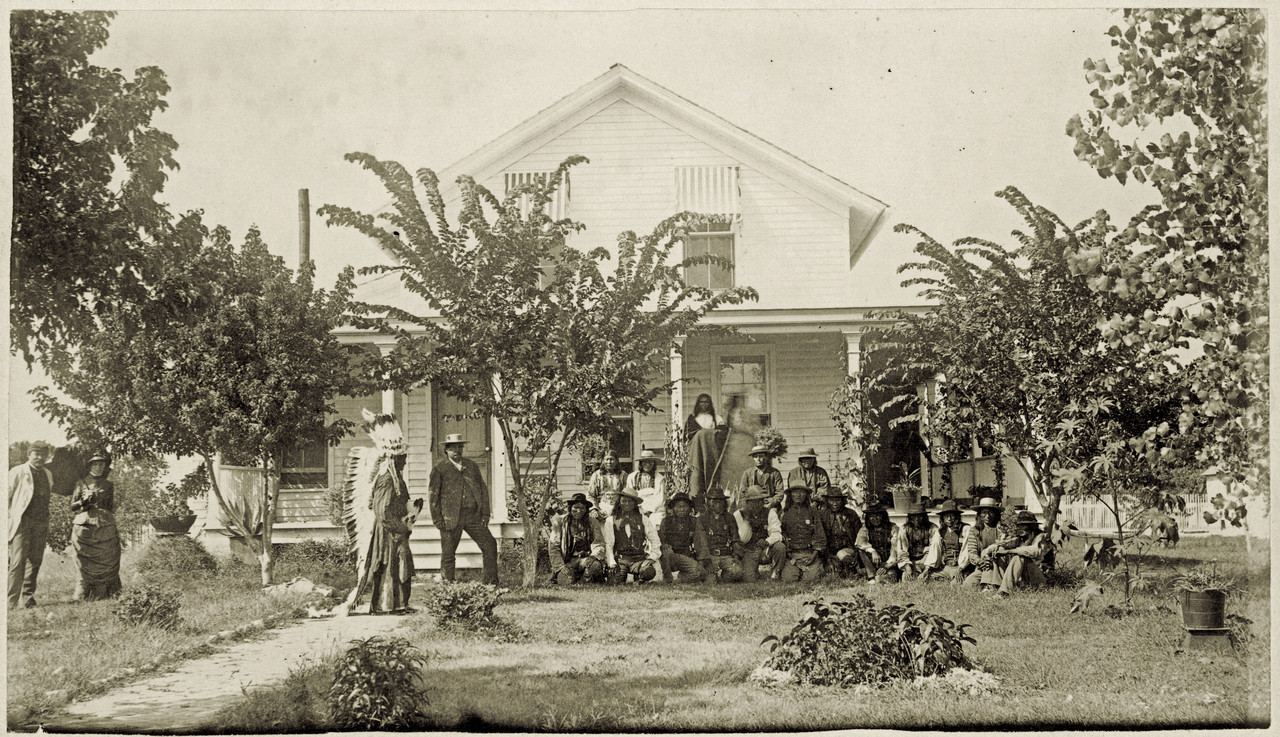 Possibly this one - Major Lee and wife (at left) with Cheyenne leaders and scouts, 1885. That's George Bent in the boater
Interestingly, the backdrop in their Caldwell studio seems to be different again, but I have no idea of the time period: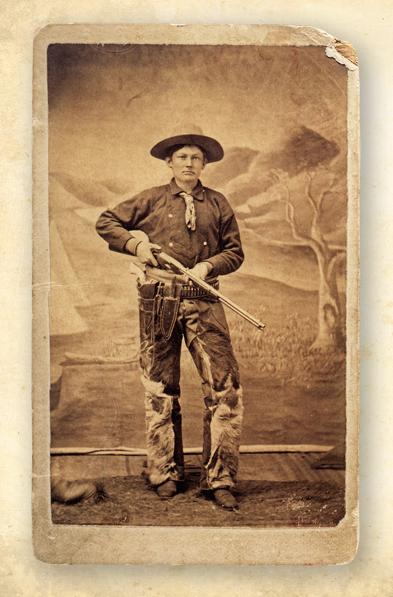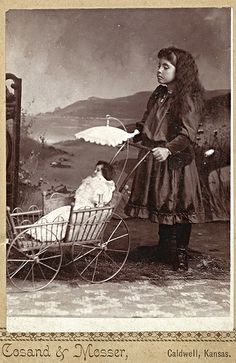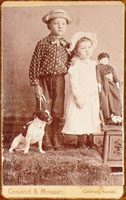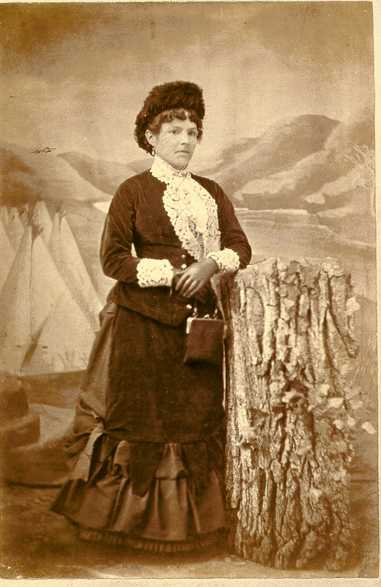 Interesting irony - taking photos of white people against a tipi backdrop!
Always wondered if this image of Indians enlisting as scouts was a Cosand and Mosser (mid 80s?):
Of course, there were numerous other photographers working in and around the area throughout the 80s and 90s - Snell, Furlong, Stotz, Shiffert, Rodocker, Coombe, the Gregson Brothers, Williams, Stevenson...