Post by Dietmar on Nov 25, 2011 10:52:05 GMT -5
Several years ago we had a discussion about the portraits of Spotted Elk aka Big Foot. We stated that the often published photograph of Big Foot by Alexander Gardner, which he took of the Oglala delegation in 1872 in Washington, does not show the leader of the Miniconjous who were massacred at Wounded Knee in 1890:
www.american-tribes.com/Lakota/BIO/BigFoot-Oglala.htm
www.american-tribes.com/Lakota/BIO/BigFoot-Miniconjou.htm
Big Foot, Oglala, by Alexander Gardner, 1872
Big Foot, Oglala (profile)
"The […] Big Foot photograph was taken by Alexander Gardner in 1872. Although it has been published hundreds of times as the chief killed at Wounded Knee, I really doubt this. Gardner pictured delegates from several Sioux tribes (Oglalas, Brules, Yanktonais), but no Miniconjous. The Big Foot photo was attached to the Oglala delegation, led by Red Cloud. There are other hints. If you take a look at the 1868 treaties, there was indeed an Oglala chief named Big Foot. Catherine Price states in her book that the Oglala chief Big Foot was among the delegates who went to visit the President in 1872." – Dietmar Schulte-Möhring

"The […] shot of Big Foot was taken by Alexander Gardner in 1872, one of his portraits of the Oglala delegation to Washington that spring. Despite numerous reproductions as the famous Big Foot, this is not the Miniconjou of that name. A Big Foot consistently appears in Oglala censuses and band tallies across the period 1871 to 1882, his band affiliation shifting between the Kiyaksa and Loafer bands. His first recorded appearance seems to be in Sept. 1868, when his camp of 18 lodges - then identified as Lower Brules - accompanied Spotted Tail's removal from the Republican River hunting grounds to the new Whetstone Agency. John G. Bourke's extraordinary diary account of the 1882 Pine Ridge Sun Dance names Big Foot as one of the presiding holy men." — Kingsley Bray
Let´s see what we also have about Big Foot, the Oglala.
His wife´s name, who accompanied him to Washington in 1872, is given as White Hawk. She also was photographed by Gardner:
White Hawk, wife of Big Foot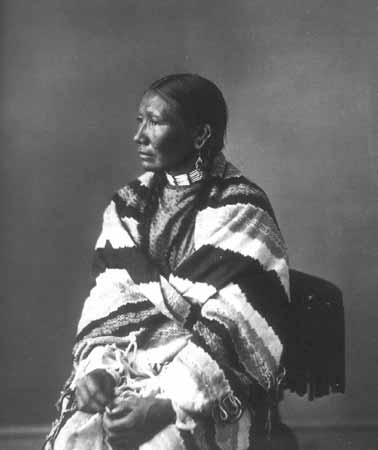 White Hawk (profile)
Both were photographed together in another picture, that recently turned up on the Cowan´s auctions website:
Big Foot & White Hawk, Oglala 1872
Even if the first posted Gardner portrait for some reason shows some resemblance to the portraits we have of the Miniconjou Spotted Elk/Big Foot, in the portrait of the couple above we obviously see that he is another man.
As stated earlier, Big Foot´s name can be found in many documents, treaties and records as an Oglala. Among the sources available that give us information about this leader is this one (please note that this is written from the white perspective), found recently by Calvin Spotted Elk:
CHIEF BIG FOOT´S CHARACTER
Chief Big Foot is one of the strongest of Chief Red Cloud´s adherents, and a fair specimen of the Indians whom Agent McGillycuddy denounces as opponents of civilization, progress, &c. I deem it proper, therefore, to print the following testimonial to his character:

Red Cloud Agency, November 13, 1874.
The bearer, Big Foot, is a true and tried friend of the agent, and is taking a leading part in changing the habits of the <Indians from a life of hunting and warfare to that of farming and stock raising. I recommend him to the kind consideration of all people whom may come in contact with.
J.G. Saville,
U.S. Indian Agent

OFFICE OF INDIAN AFFAIRS,
WASHINGTON, D.C., July 26, 1878.
Big Foot is a recognized head man of the Ogallalla Sioux Indians, and any white man to whom he may show this paper is requested by the government to treat him in a friendly manner, and to be careful to give him no cause to break his treaty with the Government.
Wm. M. LEEDS, Acting Commissioner.
C. Schurz, Secretary.
From: The Council Fire Vol. II July-August 1884 No.7-8
Calvin Spotted Elk has found more interesting information regarding Big Foot´s Oglala family.
In the 1898 Pine Ridge Census we find his sons Plenty Bear and Six Feathers living next to Sitanka (Bigfoot), the Oglala.
Interestingly his wife´s name here is White Horse Owner, not White Hawk. Either this is another wife, or more likely White Hawk was a translation error by Gardner or an interpreter.
What I find also intriguing, is that in almost all sources we find Big Foot together with High Wolf, another Oglala leader. These two seem to had been very close.
High Wolf also was portrait by Gardner in 1872:
amertribes.proboards.com/index.cgi?board=oglala1&action=display&thread=791
High Wolf, Oglala 1872
To be continued…