Post by grahamew on Dec 19, 2010 14:03:27 GMT -5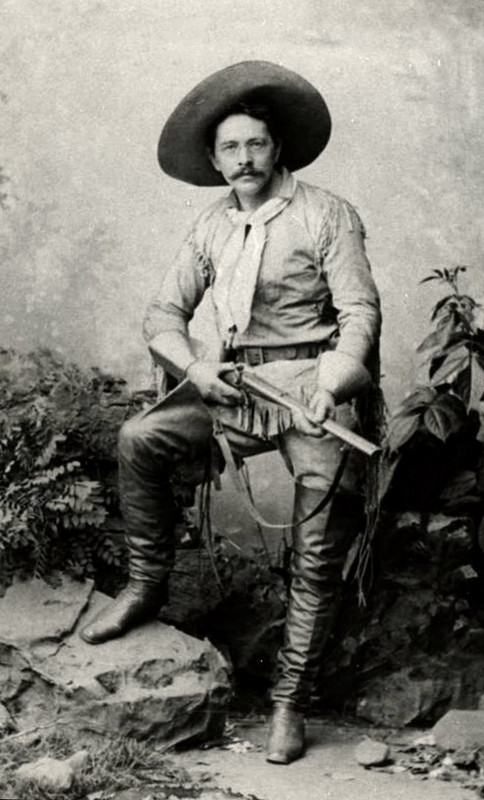 Cronau, 1882
Solingen-born artist Rudolf Cronau was working for the German newspaper Die Gartenlaube when, in 1881, he travelled to Standing Rock where he lived for three weeks with the Hunkpapa who camped away from the agency itself then he left for Fort Randall, where he made several Indian drawings. He only stayed there a week, but claimed to have made friends with Sitting Bull, for whom he wrote letters to Washington. Although later that decade, he continued to travel through America, he never returned to Standing Rock, though he did tour Germany and Austria with some Oglala from Pine Ridge.
I've seen SOME of his sketches made amongst the Lakota and Dakota, but would love to see more if anyone has them and is willing to share.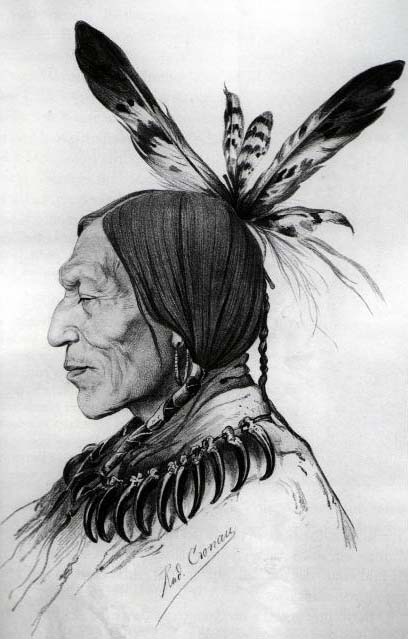 I had this man as Jagoo, the Storyteller, an Ojibwe, but Gregor has pointed out that it has since been identified as a Four Horns, Sitting Bull's uncle, by the German ethnologist Dr. Peter Bolz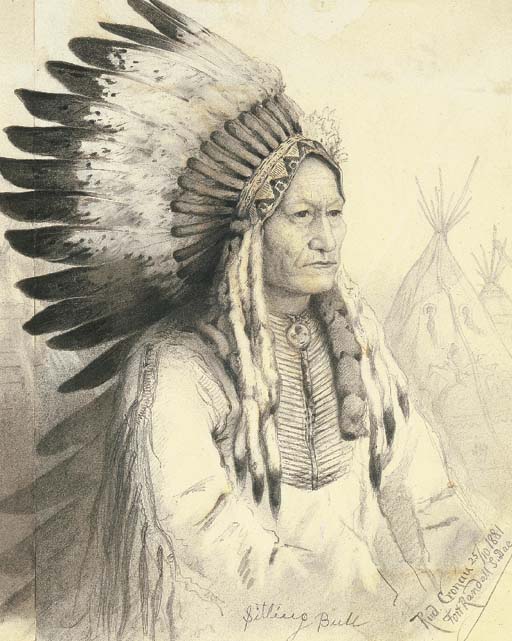 Sitting Bull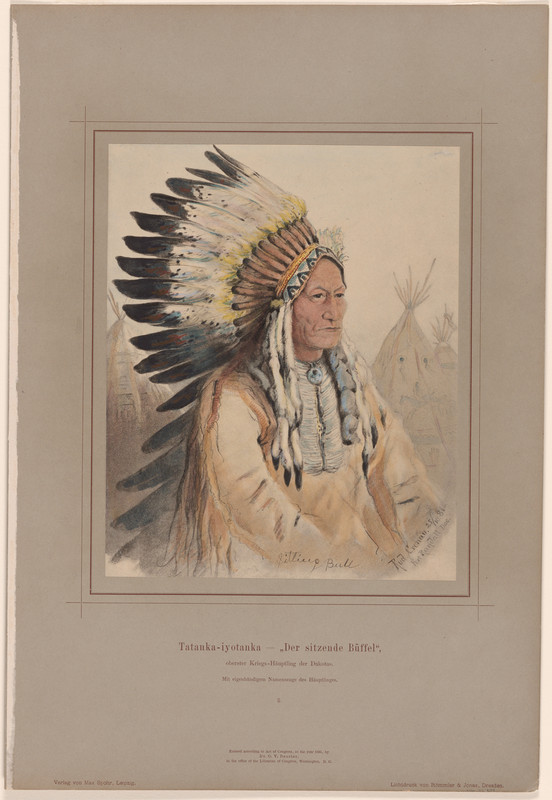 Colour print of the above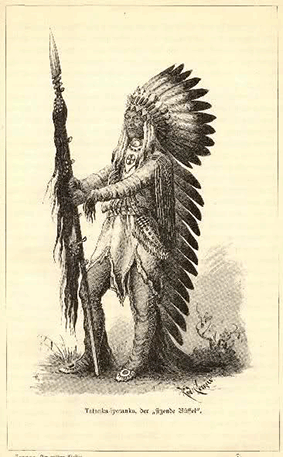 Full length Sitting Bull, which, perhaps, owes a bit to Bodmer...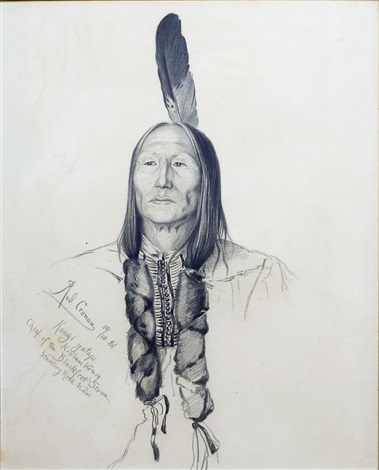 Crow King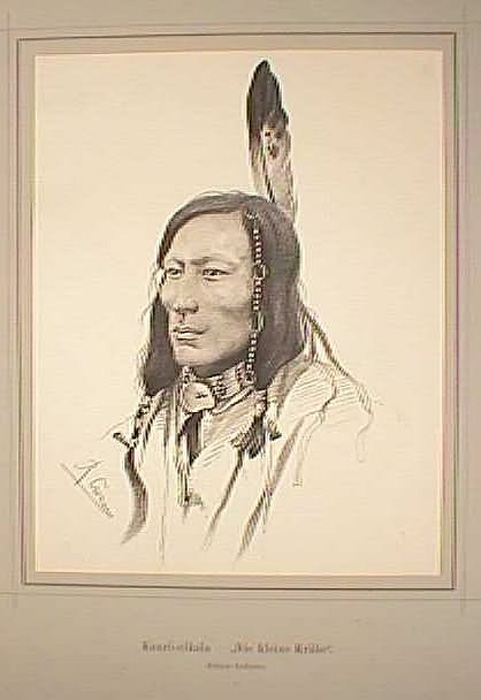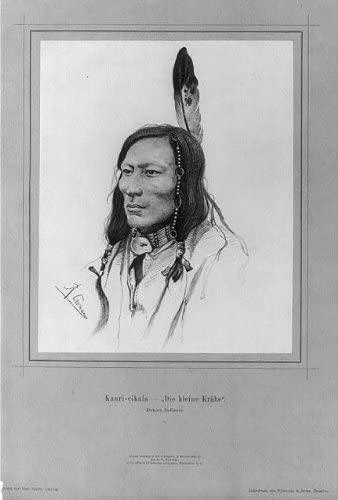 Little Crow, Miniconjou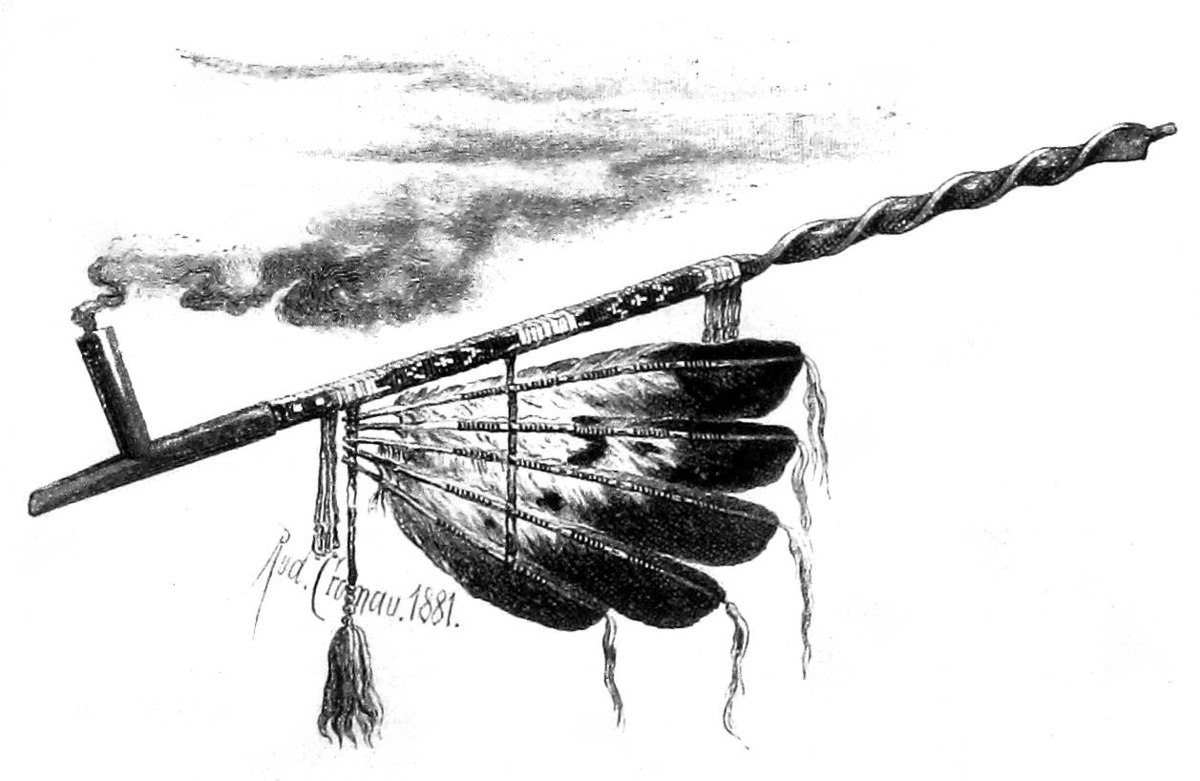 Pipe, 1881 (from Die Gartenlaube)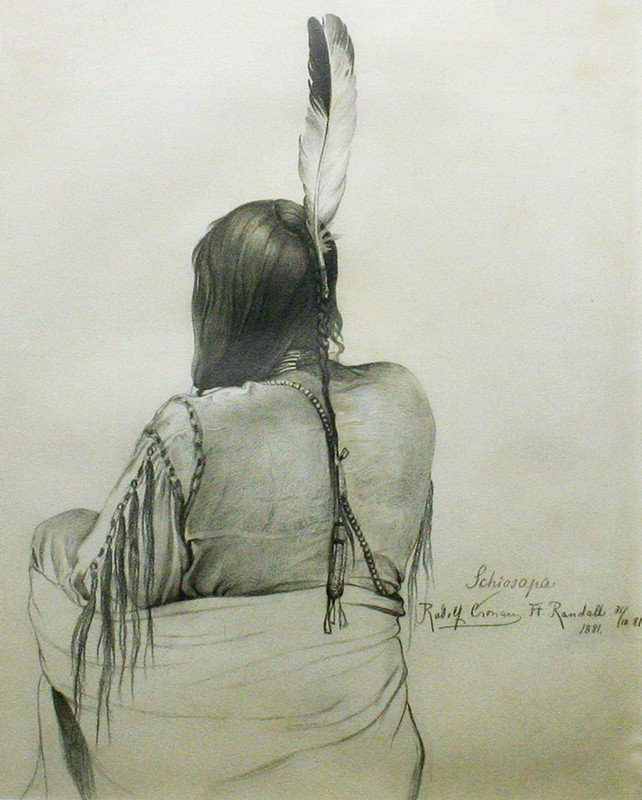 Schio Sapa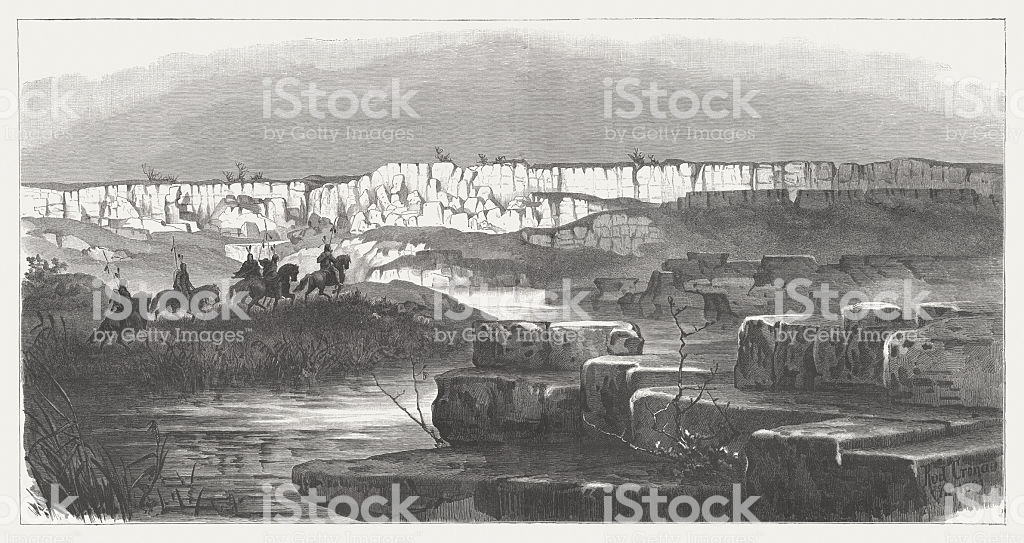 Red Pipestone Quarry (from Die Gartenlaube)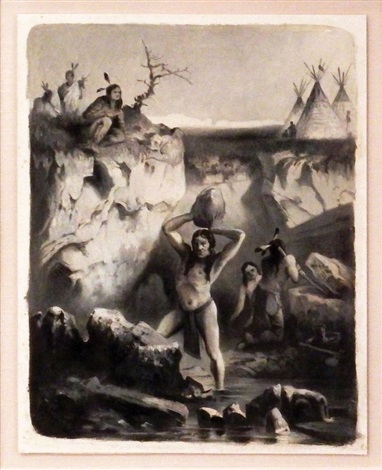 Yanktonais working in Pipestone Quarry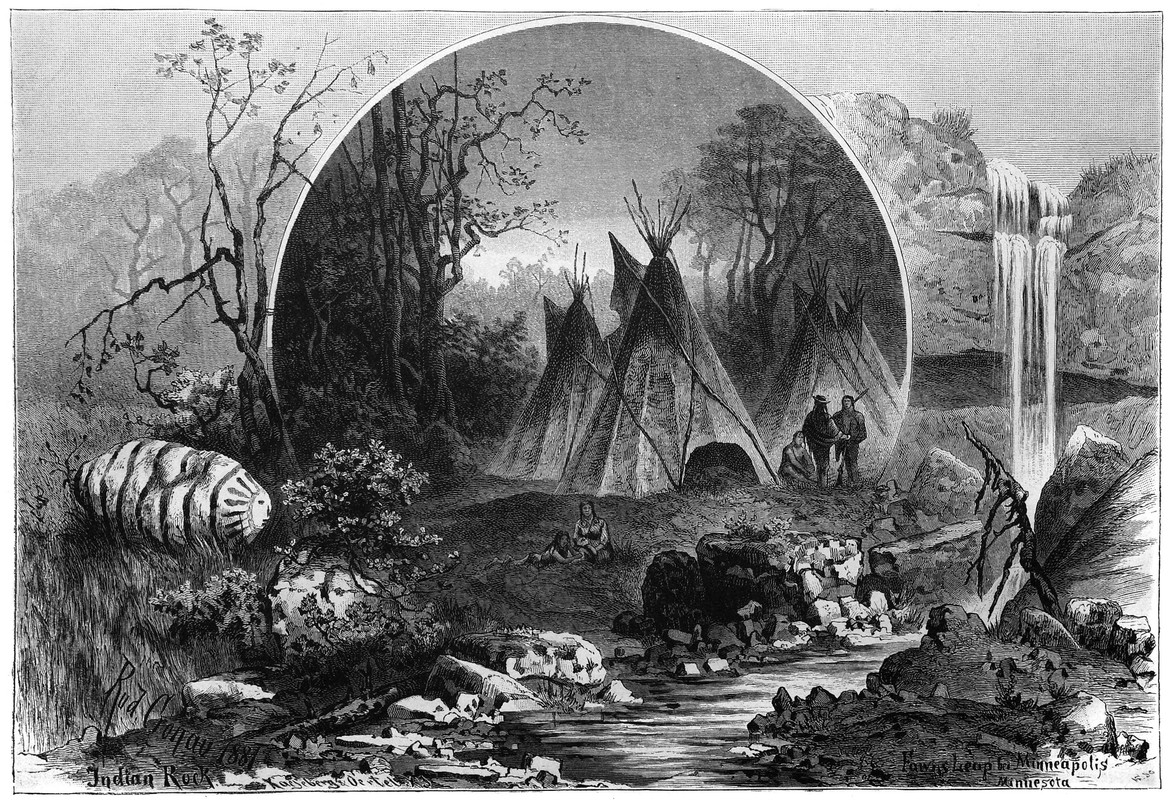 Scene at Fort Snelling
The strange painted rock near the foreground is, I believe, the Red Rock that you can read about here:
collections.mnhs.org/MNHistoryMagazine/articles/36/v36i01p018-023.pdf
Clearly, some of these have been worked up into more romanticised pictures, but I'd be interested to see any more of the portraits that were made at Standing Rock and Fort Randall
He travelled widely in America and made works featuring other Indians.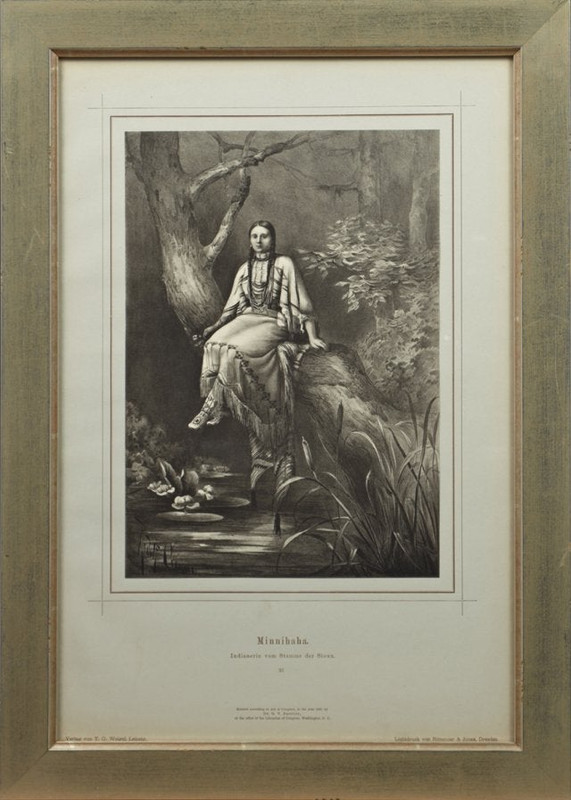 Minnehaha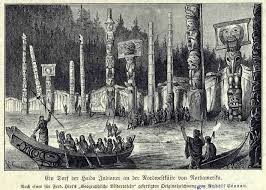 Haida village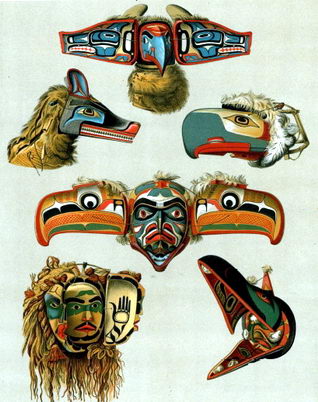 Kwakwaka'wakw/Kwakiutl masks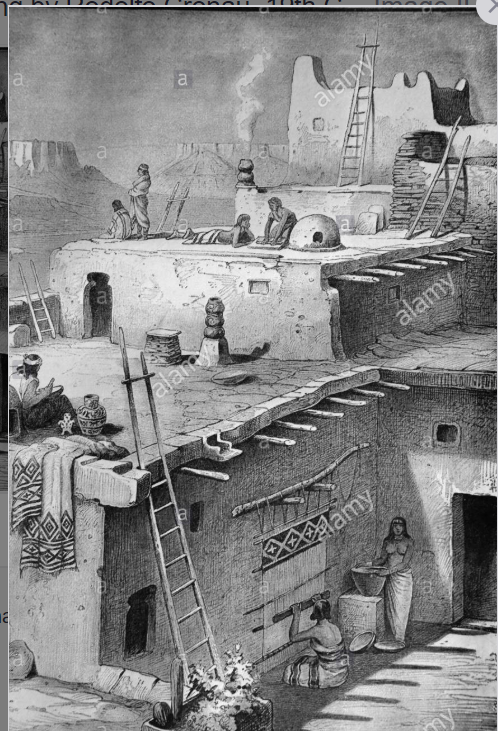 Among the Pueblo tribes
We have a correspondent here, Miyelo or Kiktayokangi, whose relative, Sinte, met Cronau, possibly while with Buffalo Bill (or maybe he was one of the Oglalas who Cronau took around Germany and Austria) and drew several pictures for him.
Here's one of the drawings that Sinte made for Cronau: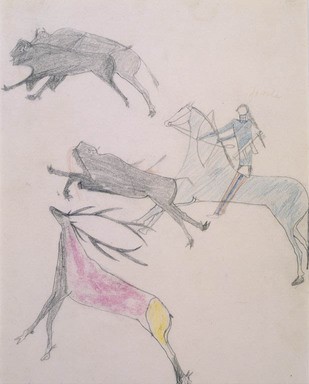 An interesting addition to all this, taken from:
www.bonhams.com/auctions/12976/lot/3356/#/
!
"[SITTING BULL. 1831?-1890.] PHOTOGRAPH WORN AROUND SITTING BULL'S NECK AT TIME OF HIS DEATH. CRONAU, RUDOLF. 1855-1939. Cabinet-size albumen print, 4 1/4 by 6 1/2 inches, being a head and shoulders portrait of artist Cronau, by W. Kurtz of New York, signed and inscribed on the verso, "To his friend / Tatanka-iyotanka (Sitting Bull) / Rudolf Cronau," additionally inscribed "Special artist & Correspondent / of the "Gartentaube" / Leipzig Germany," water stains, wear, 1/2 inch loss at upper center margin of recto, dark stains to left and right margins of verso, second inscription traced over. Together with Autograph Manuscript of Cronau, 6 pp, 4to and 8vo, n.p., n.d., explaining the history of the photograph above, plus related correspondence and notes in English and German, 1897-1936, tracing the journey of the photograph from the time of Sitting Bull's death. In 1881 German artist and journalist Rudolf Cronau was the first Westerner to paint Sitting Bull from life. The older Sioux chief and the younger German journalist struck up an unlikely friendship, and when Cronau departed Sitting Bull's camp, he gave the chief this signed and inscribed photograph. In 1890 Sitting Bull was murdered as Lakota policemen, acting at the behest of the U.S. government, attempted to arrest him in order to prevent his participation in the Ghost Dance, a Plains Indian ritual with apocalytic overtones. Seven years after Sitting Bull's death, a friend of Cronau's was visiting Los Angeles and passed by the window of Cambell's Curio Store on South Spring street. There he was stunned to see Cronau's photograph among a group of Indian relics belonging to Sitting Bull. Cronau entered into correspondence with W.D. Campbell, the proprietor of the store (Campbell's letters are present here), and learned that Sitting Bull was wearing Cronau's photograph on a string around his neck at the time of his death, that it was stained with Sitting Bull's blood, and that the photograph and other relics were collected by a Standing Rock Indian trader named Mr. Angevine. Campbell offered Cronau the photograph for $25, but Cronau instead offered to trade artwork for the piece. Campbell refused, and the photograph was sold to another client. (Later records indicate the buyer was a Mr. T.S. Lowe of Los Angeles.) In 1921 Cronau discovered that the photograph was on display at the Museum of the California Academy of Science in San Francisco. Again Cronau pursued the photograph, but was not able to purchase it from the William Fitzhugh estate which had loaned it to the museum. Instead the photo traveled to the Museum of the American Indian in New York, curated by Dr. George Heye. FInally, in 1936, Cronau convinced Heye to trade the photograph for one of Cronau's paintings, and thus the photograph made its way back to its original owner, to be married to the considerable archive of correspondence and manuscripts Cronau had accumulated over the decades."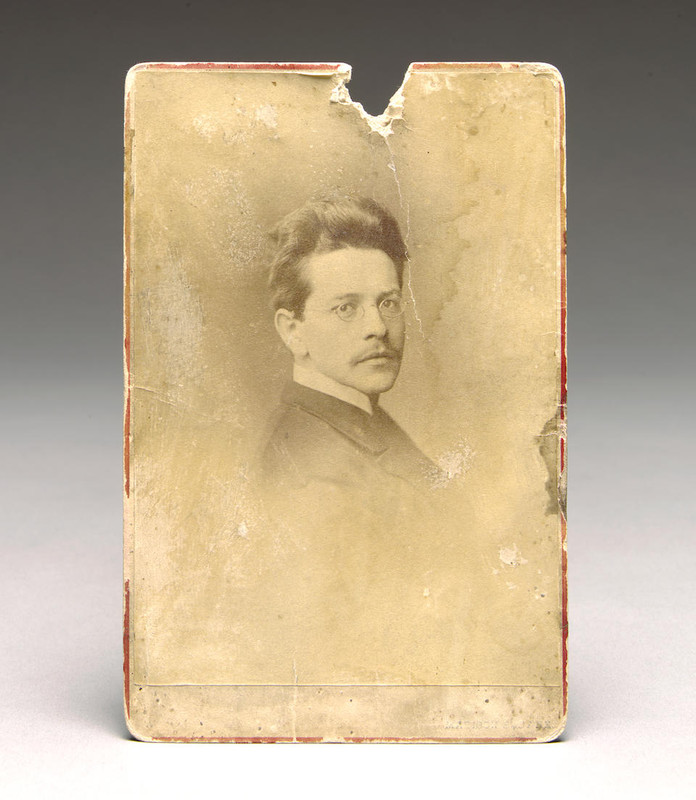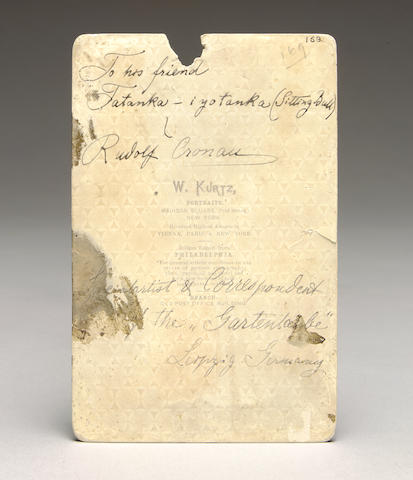 According to Christian Feest in 'Germany's Indians in a European Perspective', from Germans and Indians: fantasies, encounters, projections By Colin Gordon Calloway, Gerd Gemünden, Susanne Zantop, when Cronau found the photo was for sale in 1895, he found out it wasn't stained with Sitting Bull's blood and the Lakota had not been wearing around his neck when he was shot. He refused to buy it for $1000 but acquired it nearly 40 years later from George Heye, the founder of the Museum for the American Indian. When Cronau's own account of the story behind the photograph was published around the time of his death in 1939, he repeated the tale about Sitting Bull wearing the picture at the time of his death.
Another interesting addition: Cronau's great gandson, Howard Junker, a writer and editor living in San Francisco, had a blog (http://zyzzyvaspeaks.blogspot.com/2009_07_01_archive.html), on which he has talked about his relative and posted pictures of examples of "some of the beadwork Sitting Bull gave him" which "is now in my living room."
Sadly, this is no longer online... IT's possible I've saved the photos, but not on this PC