Post by grahamew on Nov 1, 2010 16:31:33 GMT -5
James E. Meddaugh, sometimes given as James F. Meddaugh or James S. Meddaugh was a photographer based in Rushville, Nebraska and is sometimes listed alongside A. H. Baumann. He is credited with taking the following photo of Red Cloud in the late 1870s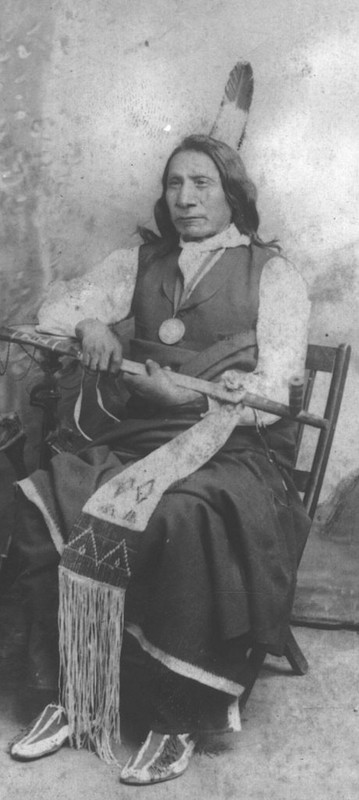 by Frank Goodyear, although he notes that the studio in Rushville, about 30 miles from Pine Ridge, wasn't established until the late 1880s. Moreover, the Guide to the Western Americana Card Photograph File at Yale University (http://drs.library.yale.edu:8083/fedora/get/beinecke:waphotosfile/PDF) states Meddaugh was born in 1862; if this is the case, then we have the possibility that Red Cloud was photographed by a 16 year-old, or that it's the work of someone else (and that begs the question: who?) and Meddaugh has been credited with it later - perhaps because he had the negative in his collection or the inage was sold in one of his mounts.
Meddaugh's Indian images are fairly scarce and all the others I'm familiar with date around 1890, which fits with the idea that he only had a short career. Fleming and Luskey give 1888 as the year he was making views of Pine Ridge, but we know he took one of the few photographs of the Ghost Dance amongst the Lakota in 1890,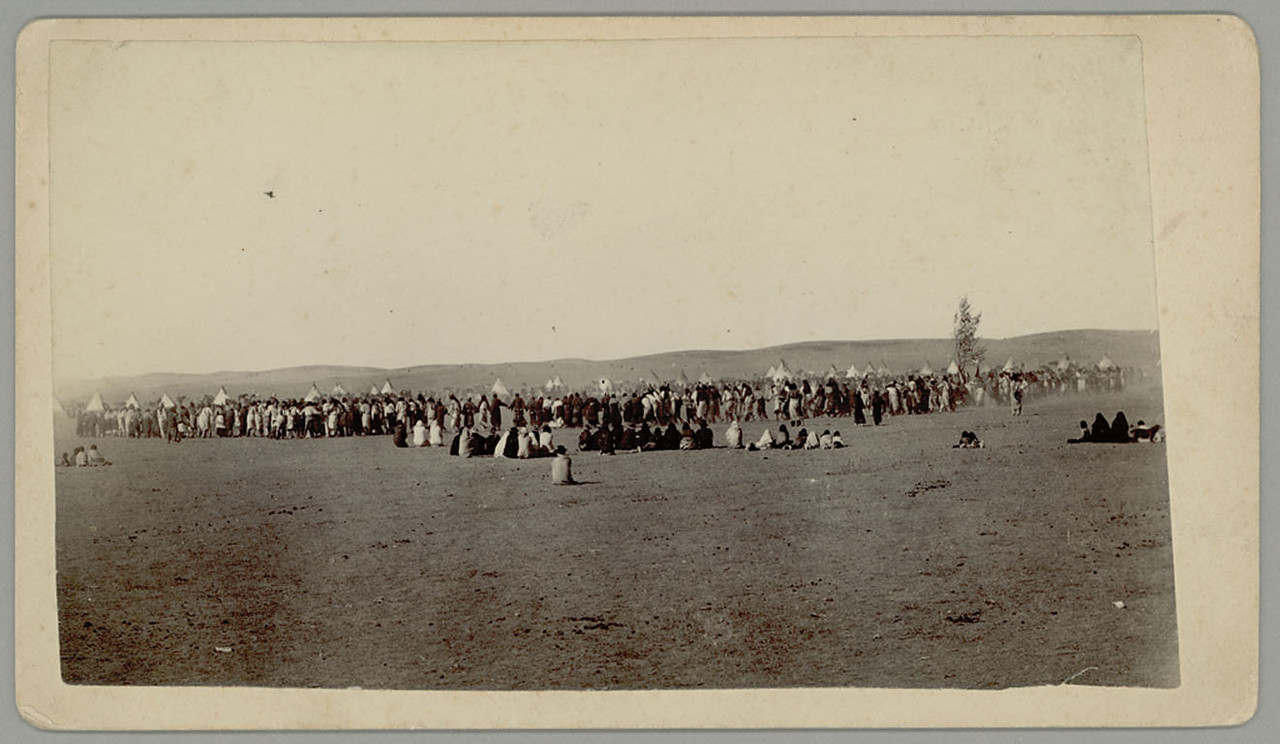 probably at No Water's village north of Pine Ridge, according to Jensen, Paul and Carter.
The photgraph file at Yale indicates he took a photo of Big Roads (sic), but I haven't come across it - yet. He photographed George Sword and his third wife, Lucy Different Eagle around this time: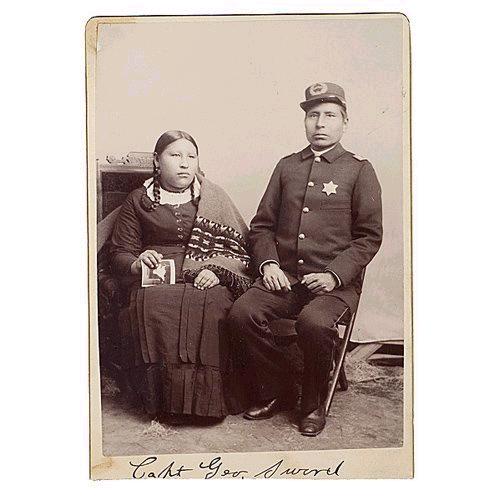 Another survivng Meddaugh is this one of a young Lakota man and his wife, taken around 1890: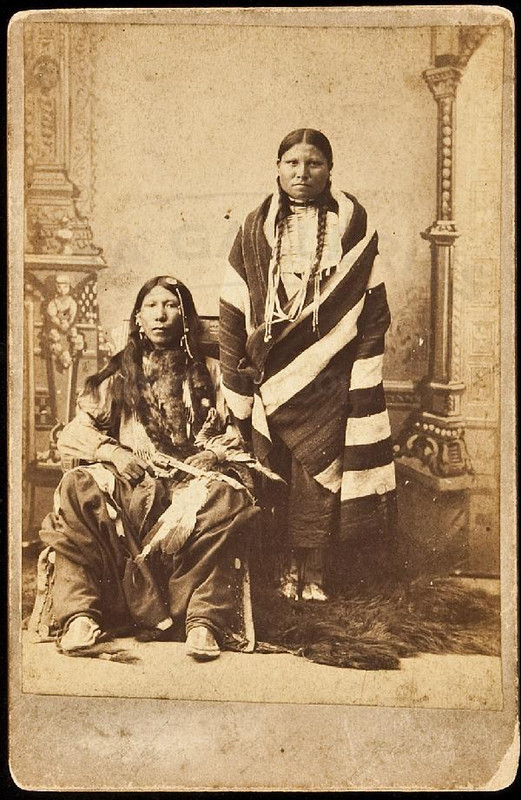 Several views taken at Pine Ridge survive, but not all of them have exact documentation in terms of the subject matter: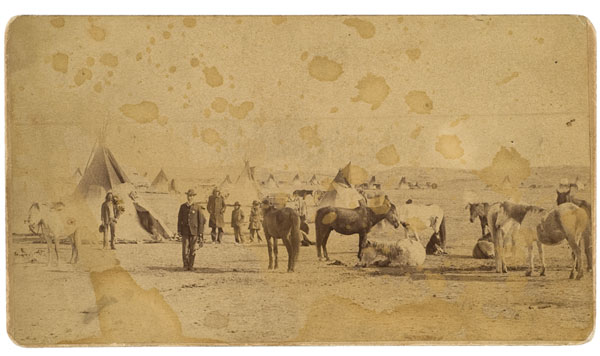 Iron Crow's camp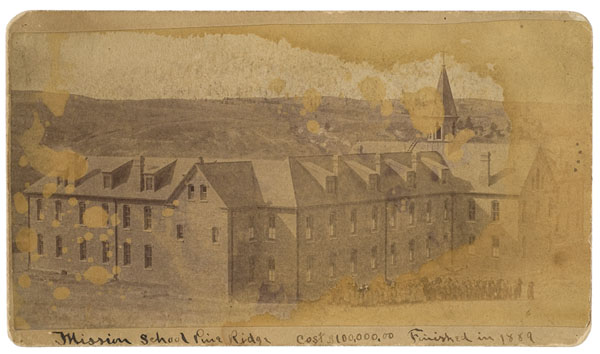 The Mission School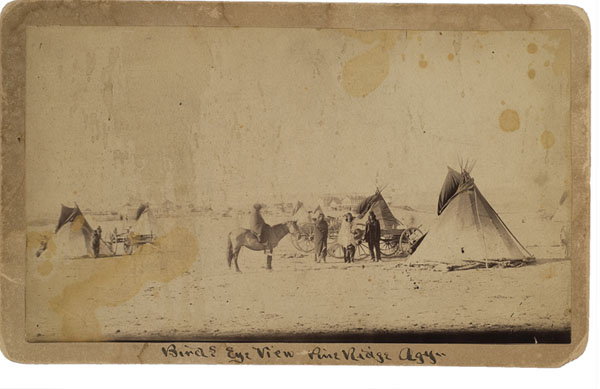 "Bird's eye view" of Pine Ridge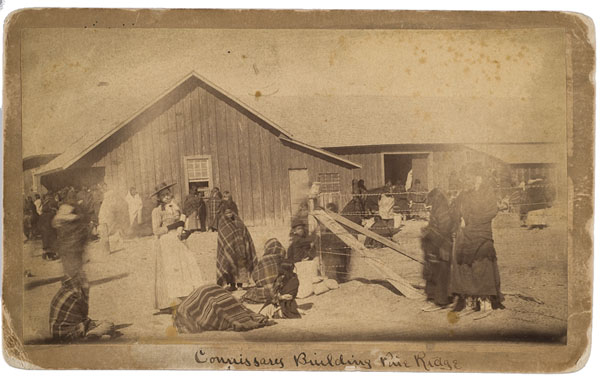 Commissary building, Pine Ridge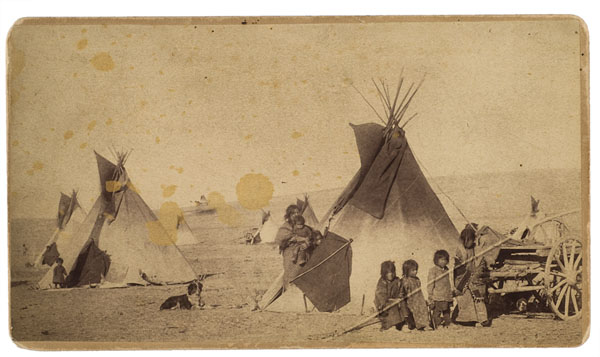 Lakota family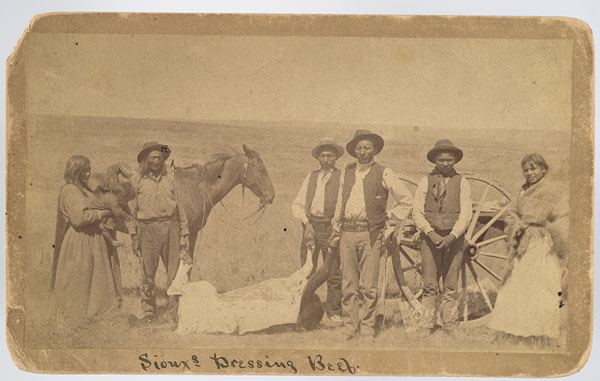 Lakota dressing beef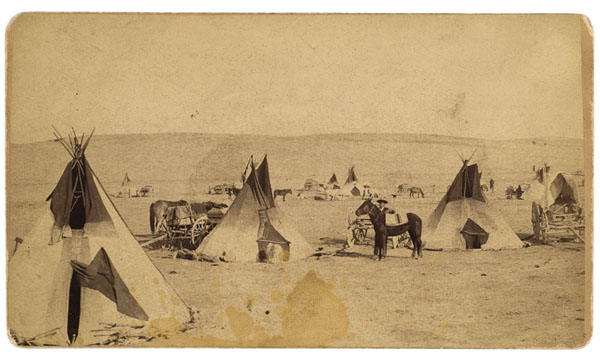 Lakota camp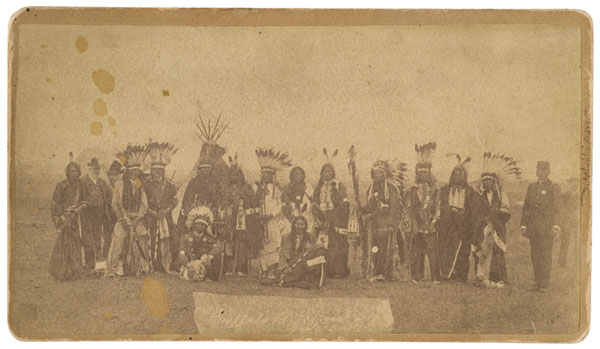 Buffalo Bill's Outfit, 1889
This is supposed to depict Indians who toured with Cody in April 1889, but the man standing seventh from the left with two feathers in his hair and clutching a pipe bag has been identified as Red Cloud, who didn't tour with Cody; that's George Sword at the far right, standing next to Painted Horse; American Horse is meant to be the man in the bonnet kneeling to Red Cloud's right. Perhaps some of these men were about to embark on a tour with Cody - or they had just returned to the reservation, There's a Cross photo which seems to depict some of the principals dressed the same (or similarly) and its titled, "Capt. Geo. Sword with Buffalo Bill's Indians" - though it's dated 1891: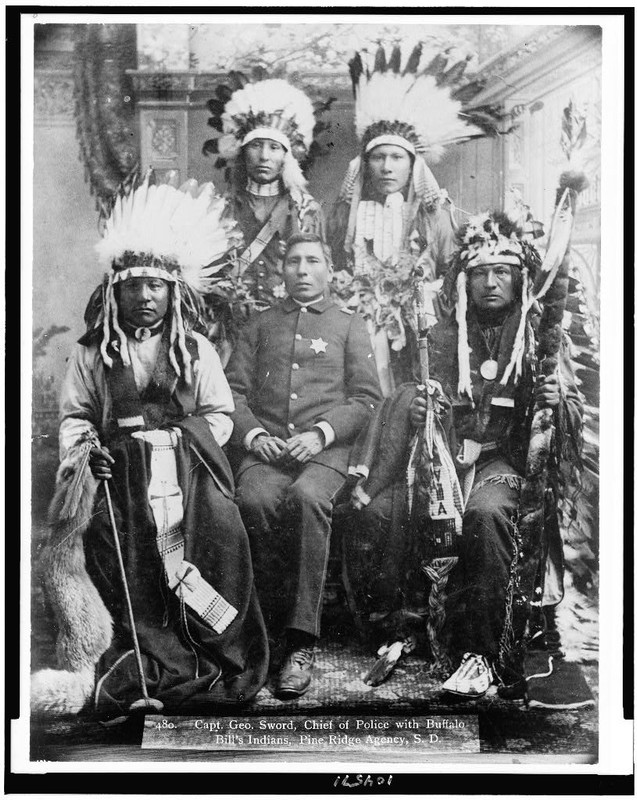 L-R: Fainting(sic) Horse/Painting/Painted Horse, One That Clinches (?), Sword, unidentified, Yankton Charley
Read more:
amertribes.proboards.com/thread/1055/meddaugh#ixzz67FvTYKxH
Ricker, in Tablet 39, referring to him as Jim Meadows, notes he had many "negatives of Indians and of ghost-dancing before the W. K. fight. When A. H. Baumann sold his Rushville studio to Meadows he let him have these negatives. Meadows was burned out at Lead several years ago. Baumann took those views. He has been in business in Rushville, Gordon. Buffalo, Wyo., and Crawford."
There is an O. E. Meddaugh taking photographs amongst the Pomo around 1912. Is it possible it's the same man?
It would be interesting to see if anyone who reads these boards on a regular basis has any more works by this photographer - or, indeed, better versions of some of the images posted above.