Post by scoutshouse on May 2, 2014 15:02:32 GMT -5
I hope I'm in the right forum - I just followed another post with Paiute/Shoshone references...
I'm hoping to find information or to start a conversation about a character I'm not even sure existed. My Grandfather, Jerome Lee Martin, was a sheriff at one point in Shoshone and drew sketches of him from memory at a much later date, around 1932.
As the story goes, there was a man who posed as a "Piute" squaw to evade the law. All I know about him is what is on the sketch, but obviously I've always wondered if anyone has even heard of either the Cisco Kid or Utah Kid who posed as a Paiute squaw...
I've included the sketch and a short article written about LM in The Midwest Review C 1920 when he was running for office.
(Full-page pdfs converted to jpg aren't loading at 100% and attachments won't upload, even though only 129kb. error says forum has exceeded limit. Any suggestions for how to get clearer images uploaded?)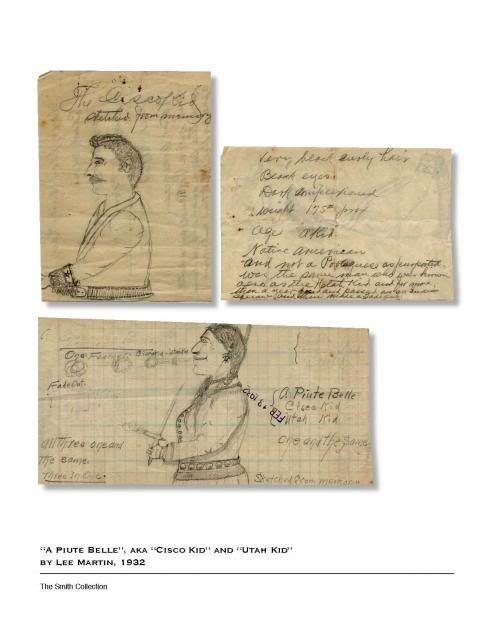 Text from sketches - not sure if the drawings are legible (FYI: it's kind of repetitive!)
DESCRIPTION:
Very black curly hair
Black eyes
Dark complexioned
Weight 175# prox
Age "A Kid"
Native American and not a Portuguese as purported. Was the same man who was known also as the Utah Kid and for more than a year posed and passed as an Indian squaw and then made a fade out.
"CISCO KID" SKETCH
Caption: "The Cisco Kid" sketched from memory
"A PIUTE BELLE" SKETCH
Caption: One Feather = Cisco Kid – Utah Kid
Fade Out.
All three one and the same.
Three in One
A Piute Belle
Cisco Kid
Utah Kid
One and the Same
Sketched from Memory
Stamped FEB 13 1932
I don't mean to clog this Native American Board with cowboy history - I really only want to find info on "A Piute Belle," but I also wanted to show that LM was a bonafide lawman... There is such a fantastic aspect to the interlacing of personal history from this period and one never knows where sharing new information will lead.
Thanks for any interest! and have a great weekend
scout